Chosen by DJ Monk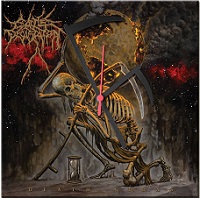 We're changing the format of our 'Video Of The Week' feature. You see, we get dozens of very high-quality submissions, many of which are worthy of our coveted honour, and it often is difficult for us to pick one clear winner at the expense of other contenders. So, in addition to naming our 'Video Of The Week', and going into more depth about both the song and its visual presentation, we'll also be showcasing some of the other visualizations which have tickled our optical cortexes over the previous seven days.
Our top selection this week comes from uncompromising, and unforgiving, San Diego progressive death grinders Cattle Decapitation, and a video which is something a little bit different from the expected metal norm. Clocking in at nearly 11 minutes long, 'The Unerasable Past' is actually a short film by the artist Wes Benscoter, who has worked with the band for the past years, as well as providing artwork for the likes of Slayer, Kreator, Dio, Nile, Autopsy and Broken Hope among many others. This, however, is his first music video and features two Cattle Decapitation songs – 'The Unerasable Past' itself and 'Death Atlas', the title track of their forthcoming new album, which is being released this coming Friday (29 November) via Metal Blade.
Cattle Decapitation's vocalist and art director Travis Ryan had this to say about the video:
"When Wes told me [that] he would be down to do a music video for us, my jaw dropped. Having a music video that is completely married to the album artwork and color palette was something I had always wanted to do but never thought it could be a reality. As you can see from our lyrics, there's not a lot of hope floating around, so when he offered up his creative hands for a music video, we snapped to it, and along the way, it became a much more formidable force by taking the form of a short film.
"This worked perfectly, considering the last 12 minutes of the album not only make up two tracks that become one long emotional journey with enough monolithic peaks and valleys to rival the Andes of Argentina to the Rockies of Colorado, but the tracks themselves scream for such a treatment. The scope of the video matches the scope of the album 'Death Atlas', which is meant to be listened to from beginning to the end in its entirety as is the video. Wes Benscoter has proven that he is a master of art, incorporating various mediums into one disastrously beautiful extinction-level art film."
Wes Benscoter added:
"I've never had any real interest in doing a music video until we started planning the photos for the album layout and I thought man, this could be a great oppurtunity to make the kind of film I like. Grim, atmospheric, and topical. Created with a mix of old-school practical effects, some digital tricks and an insane amount of sand and fog. I used every trick in the book to try to do justice to Cattle's apocalyptic nightmare soundtrack."
OK. Now to some of the other vids that caught our attention this past week, and our first "merit award" goes to Swedish black metal/rock 'n' roll trio The Vice and the video for 'White Teeth Rebellion', the title track of their new album, which is due to be released early next year. It's a beautifully atmospheric slice of cinematography, with elements of Ingmar Bergman in its stylings, and the song itself would be well suited to the soundtracks of 'Vikings' or 'Britannia':
Our final tickle comes from veteran Scottish hard rockers Gun, who have just released their tribute to The Clash with a faithful yet distinct cover of 'Rock The Casbah'. Gun are no strangers to cover versions, having enjoyed a hit single with their interpretation of dance band Cameo's 'Word Up' back in 1986. Perhaps appropriately, therefore, their new retrospective double album, 'R3loaded', features one disc of cover versions' alongside one of all of the singles released across their 30-year career. Gun will spend December on the road with Dan Reed Network and FM as part of the 'Big 3-0 Tour':
Hope you like our new format. As we said at the top, there are tonnes of good videos sent our way each and every week, and it's a shame not to showcase at least some of them.
All content © Über Rock. Not to be reproduced in part or in whole without the express written permission of Über Rock.