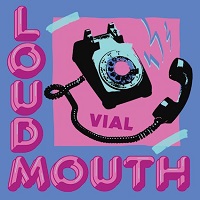 Vial: a small glass receptacle used to store medicine. Advertised as a band that hates "run-of-the-mill… bratty punk" and who will "put out what others won't pick up", Vial are also described respectively as indie, honk rock (whatever that is) and 'not a girl band'. When you first see them, they look like four young, vibrant individuals based in Minneapolis, Minnesota who look too sweet and happy to cause any snash. So why do Vial so vehemently insist that they're not a girl band. Well, it's because they don't all identify as girls and the assumptions and judgements about who they are as individuals, and as a band, are a big part of what they have to shout about in 'Loudmouth'.
Kraemer is the keytarist and founding member, who usually takes on lead vocal and who recruited Kate Kanfield (bass) and KT Branscom (guitar) from her high-school music class in 2019. Social media found Vial a drummer in a matter of days in the form of Katie Fischer. They then set about developing their own brand of medicine, for those with their own brand of ignorance. Let's see what they've produced.
'Ego Death" brings a smile to my face right away. Raw chords and raw attitude have me pushing initial impressions to the side. Like any good punk song it's short and fast and a great opener for the album. About taking the egotist down a step at a time… publicly. Who wouldn't want to watch? ''Best show in town''.  'Violet' brings an immediate contrast in that it appears to be a melodic love song, and it is. However, if you persist it evolves into something with a bit more edge. About going for what you want even if that isn't what others might want for you. The video shows the story, played out at a roller disco, shows two people shove away the barriers to finally embrace what they want.
'Planet Drool' begins with a kids rhyme about not belonging because you're not punk and/or not queer. A bit hypocritical considering the insistence on gender equality but I guess it's meant to be a jibe and invoke a reaction. Yawn. In contrast 'Mr Fuck You' distils Vials' hate for machismo and presents it prettily in a little package of utter disrespect. Beautifully dictated, it is so nonchalant it hurts even before you can digest the intent. Meanwhile 'Something More' musically returns to pop-punk in the same vein as 'Violet'. It doesn't do much for me at first but it sounds familiar and does stick in your head after a few listens. Popped almost right in the middle here is 'Thumb', an essential bit of respite from the venom laced throughout Loudmouth in the form of earnest feelings and gentler rhythms, courtesy of a cabasa of all things.
The best punk song on the album is 'Piss Punk', ''I know it's hard to believe that I can do it better than you, because you were always taught to believe that everything you think is the truth''. Ouch. With a screaming outro to die for, I definitely have this one on repeat. From here 'Therapy pt ii' and 'Roadkill' keep the standards high, the former urging the protagonist to seek help because they're a prick and the latter illustrating what might happen if they don't: ''…and then I'll back up, and then I'll go again…''. If you've ever had someone you needed to take down a peg or two and you've been sat there trying to figure out the most… concise way to put it, well you could do worse than listening to these tracks for inspiration. Where was this CD when I was at school? That's right, it was in the tape deck.
The album ends with a bit more pop. 'Vodka Lemonade' is what you drink to fend off anxiety when starting off as a new band, 'Addict' has a great riff, and the last track '21', so scratchy I can't hear the vocal, also reminds me of something else. Not the strongest finish imo. Still, Vial have definitely shown their hand and now it's clear what they're capable of.
Vial reminds me of a more offensive Linda Linda's and a less-raw Bikini Kill. Their particular brand of pop punk is still very high school in terms of the themes it covers, but lyrically it is stirring and vocally it's imposing enough to demand attention.
'Loudmouth' is proof that you don't have to look, or indeed, sound like the stereotype to take on punk rock. Yes, this band pushes against boundaries, raises hackles and takes issue with themes that you might expect it would given the band members fluid and free identities. However, while I thought I knew what I was going to hear and indeed I heard some of what I thought I would, I was impressed and pleasantly surprised by its delivery. I still listened, I kept listening and my initial impressions were, I'm happy to admit, wrong. There's hype, yes but it's justified. It does what it says on the vial. Pocket power punk.
'Loudmouth' is released on Friday (30 July). You can get your copy HERE.
All content © Über Rock. Not to be reproduced in part or in whole without the express written permission of Über Rock.