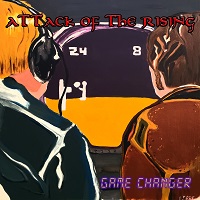 If you asked someone to think of the most powerful forces in the world, you'd probably get the standard answers of air, fire, wind, and water. Some may even mention nuclear reactions or gravitational force. I'd like to add my own answer to the mix and that is music. Think about it for a moment. What else has the power to move humans to tears, fill their hearts with joy, make them laugh, and bring them together in amazing ways? Heavy metal, in particular, possesses this unique quality, as fans of all backgrounds, races, religions, and socio-economic backgrounds gather for the sole purpose of rocking out.  Los Angeles rockers Attack of the Rising are a perfect example of this, taking their "One Tribe!" motto to the metal masses.
Okay so perhaps I waxed a little too philosophical there, but it's true. The band's full-length debut 'Game Changer' is a powerful mix of the glory days of heavy metal with bands like Judas Priest and Iron Maiden coming to mind and the west coast thrash scene with a heavy influence from Testament and Exodus.  The band is led by brothers Tony and Chris Lepre who resurrected the band in 2014 after a few years off. After solidifying the lineup, they are back and ready to rock. Despite a delay due to the COVID-19 pandemic, 'Game Changer' is almost here with a release date of this Friday.
The twin guitar attack of guitarists Tony Lepre and Billy Sablan is really the heart and soul of the record, lighting up track after track with blistering solos and driving riffs. The punishing rhythms of drummer Chris Lepre and bass guitarist Michael Risucci provide a stronger than steel backbone amidst the vocals of Mandrake which capture the listener's ear, hypnotic and chilling to the core. Highlights of the record include the haunting riff of 'Opus' and the fiery guitars of 'Gargula', which as a bonus is a tune about gargoyles helping humankind. The struggle of the working man is on display with 'Burning Daylight' while 'Fear No Evil' is an infectious fist in the air rocker. The "One People, One Tribe!" mantra is at the heart of the opening track 'On The Horizon' and is something special, a powerful song with a deeper meaning in today's world.
'Game Changer' is best enjoyed loud and is a great headphone album so get ready to grab a copy and join the tribe!
'Game Changer' is released this Friday (30 July).
www.facebook.com/ATTACKOFTHERISING
All content © Über Rock. Not to be reproduced in part or in whole without the express written permission of Über Rock.