By Jim Rowland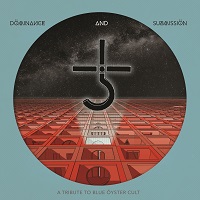 There aren't many artists who deserve a decent tribute more than New York's mighty Blue Öyster Cult, together for over 50 years and, as proved in recent years, still going strong. This new tribute gathers together numerous artists from the worlds of hard rock, punk, stoner, doom and occult rock, all of whom have digged deep into the extensive BÖC back catalogue to pick a suitable tribute. Now sometimes these kinds of albums can disappoint, but here it's most definitely a case of a '(Don't Fear) The Tribute Album'!
First off it's worth pointing out the origins of this project, which was the brainchild of drummer, producer and BÖC super-fan Steve 'Thee Slayer Hippy' Hanford, who played with the likes of Poison Idea, The Skull and Ape Machine and produced numerous punk albums. Playing a key role in assembling the various artists involved, appearing on some of the tracks and overseeing the recordings, Hanford sadly wasn't quite able to see the project through to completion as he passed away in May 2020, leaving Ape Machine colleague Ian Watts to put the final few pieces in place. The proceeds from the album go to Steve Hanford's widow.
As you run through the album, it's pretty clear that the artists involved are big Blue Öyster Cult fans as well, as the song choices, almost entirely from the 1970's era of the band, are quite inspired, and not always the obvious 'big hit' choice. Cosmo-Daemonic Telegraph Company featuring Mark Lanegan, Nick Oliveri and Sam Coomes ('Dominance and Submission'), Mondo Machine ('ME262'), Tony Reed (Mos Generator) with Thee Slayer Hippy ('Transmaniacon MC') all play it fairly safe and faithful to the originals, as do Great Electric Quest's 'Flaming Telepaths' and Ape Machine's 'Veteran Of the Psychic Wars', both of which are standout moments, perhaps because in both cases they are particularly outstanding BÖC songs.
For me a good cover version takes the song to a different place from the original, and brings something new to the table. This is definitely the case with IT featuring Andrea Vidal's very different doomy occult rock take on 'Wings Wetted Down' and Year of the Cobra with Thee Slayer Hippy's creepy rendition of 'Fireworks', both inspired choices of more obscure songs, whilst Howling Giant featuring Fu Manchu's Bob Balch offer up a bass heavy stoner/doom version of the classic 'Godzilla' that makes Fu Manchu's version from some years ago sound like a walk in the park on a sunny day. Elsewhere, Mondo Generator with Thee Slayer Hippy and Fetish add some punky venom into the mix with 'Tattoo Vampire' and '7 Screaming Diz-Busters' respectively, whilst Zeke and War Cloud featuring Janiece Gonzalez take a straighter rock approach on 'Cities On Flame With Rock 'n' Roll' and 'Stairway To the Stars'. Perhaps the most unusual approach on the whole album is taken by Spindrift's '(Don't Fear) the Reaper', which gets full marks for originality, although I'm not entirely sure it works that well.
'Dominance & Submission: A Tribute To Blue Öyster Cult' will appeal to fans of the band if their taste spreads into the realms of stoner, doom, punk and occult rock. It's a worthy tribute to a fine, fine band who perhaps don't quite get the recognition they deserve in this day and age, and it certainly highlights what fantastic songs their back catalogue is brimming with. It also serves as a fitting tribute to Steve Hanford, with the proceeds going to a very worthy cause.
'Dominance & Submission: A Tribute To Blue Öyster Cult' is released on 14 January. You can get your copy HERE.
www.facebook.com/theripplemusic
All content © Über Rock. Not to be reproduced in part or in whole without the express written permission of Über Rock.