By The Dark Queen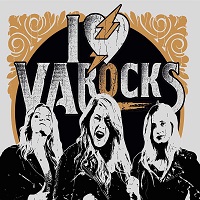 The Swedish trio VA Rocks formed at the tender age of 12 years old and self-released their first EP in 2014. They have just released this, their second album through Metalville. Although these girls are still quite young, they are really tight as a band, producing music that is fundamentally quite mature and in your face.
'No More Fucks To Give', the opening track, blasts straight through your speakers to blow away any cobwebs you have lingering there right in your ears so you can hear what the fuck they are about. You are just about recovering when 'The Code Of The Road' pulls the rug away from beneath your feet, and when you can stand again you can't help but move your head and body to best of the hypnotic beat.  We all feel like we are being watched at times, but these girls are 'Gonna Get You' in the end… Hey, if you're a law-abiding person you're OK, lol. 'Woman' is a song that sums up every man's fears because these girls can strike fear into every man's heart and soul as they tell you all "don't under-estimate me". We all have a bit of 'Rebel Blood' in us, but these girls have it full throttle and full on if your face as they goad you to take them for a ride.
The girls are so tight and in your face it will take you back to the days of Girlschool, Lita and the venom of Motörhead; at such a young age I wonder which of their parents had those preferences lol. We have to 'Hit The Road' before we find 'Romeo And Juliet' with our footsteps in the sand before we find that 'Here Comes Trouble' a true Runaways inspired song: I still wonder how these youngesters know about all this class rock/punk '70s/80s music and can do it so well.
'Never In a Million Years' brings the ballad without it being a ballad, but it is such a powerful close to the album; it is heartfelt and powerful. In my humble opinion, this band has a lot to offer and are powerful musicians.
'I Love VA Rocks' is out now. You can get your copy HERE.
All content © Über Rock. Not to be reproduced in part or in whole without the express written permission of Über Rock.