By Jase Walker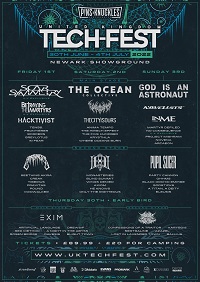 I've dragged myself out of my tent a bit late today unfortunately but I've got myself to the main stage just in time for Novena, I don't care how ruined I am, there's no chance I'd miss these.
This is my first time seeing them since a small line-up change with a new singer alongside Ross. The harmonising is wonderful, the mix of Ross and Pipi's vocals puts a real different spin on their music! This is made even more clear with 'Sun Dance', one of my favourites of theirs, the vocal harmonies stand out right at the front of the sound. Pipi's unclean vocals are terrifying too!
'Indestructible' goes down a treat, seeing the movement from the crowd and singing along to it has certainly helped me shake the hangover off a bit. Only a short set in this case, given the length of some of their songs it feels like it was over before it began. Short and sweet but a fantastic set nonetheless and Pipi's presence is definitely felt, she fits right in with Novena.
Later on, I've returned to the Main Stage for Project MishraM. They've got a pretty unique take on djent/prog metal as it's infused with Bhangra and Indian folk music. The atmosphere they create with their live show is immense too and with a new album that came out not so long ago, the set is stuffed full of new music. The juxtaposition of rapid fire gamaka style singing against djenty grooves is jarring but works incredibly well together!
Project MishraM storm through their set, each one packed with gurn-worthy riffs and soaring vocals akin to the music from Bollywood films. These alongside Bloodywood are demonstrating to the world that India can be just as metal as anywhere else. One song stands out as a bit different as they switch gears to a bit more of a chilled song and add in some rap but the 'chilled' bit doesn't last long before dropping back into their grinding djent grooves. I'm extremely glad they were able to make it here, considering the issues around travel that are still affecting many tours and shows. Tech-Fest has welcomed Project Mishram back with open arms and they've delivered another fantastic show.
Unfortunately, I've missed a fair chunk of today after a nap ended up seeing me out for a few hours, but I'm back on my feet for God Is An Astronaut! Following the raffle for a Strandberg guitar, they get right into it, opening with a grand atmospheric swell of sound. Sitting somewhere around post rock and prog, having these send off Tech-Fest's final day is great for me given that they're a bit more of a chilled one. I don't think I'd have the energy to go as hard as I did the last two days!
Melancholic harmonies between the bass and guitars reminds me heavily of Explosions In The Sky, although markedly heavier. Tremolo picked, reverb heavy passages, moving into discord alongside crushing breakdowns all building up to grand crescendos. With one member switching back and forth between keys and guitar, and another bass, the sound is hugely diverse in what they can deliver. Although there's no vocals as such, they still use their voices as a layering mechanism for their melodies. Watching instrumental bands like this is always pretty different from other shows as there's rarely any crowd interaction and usually a bit more focused on the presentation of the music itself. But God Is An Astronaut have served to close out Tech-Fest 2022 in style. It's been a fantastic weekend on the whole and even if I did lose some time today because of my own antics, it was incredible all the same.
Tech-Fest is a real special one for me, the community that surrounds it and the interesting line-up selections all add up to a gem amongst the swathes of festivals across the ÜK and in fact Europe too. Considering I've met people quite literally from across the world this weekend that have travelled here just to attend shows how strong the community here is. Thanks to everyone that makes this festival happen, it was wonderful to be back.
UK Tech-Fest 2023 takes place over the weekend of 29 June – 3 July. You can get your early bird tickets HERE.
All content © Über Rock. Not to be reproduced in part or in whole without the express written permission of Über Rock.