By Monk and The Dark Queen
You can tell when a band just loves playing live when they squeeze in additional headline shows on "off days" during an arena-filling support tour. You can also tell when they have an affection for a particular corner of the Überverse when they don't take the easy option by playing said dates on the ÜK mainland but instead venture across the most expensive expanse of water on the planet to bring the party to the island of Ireland… and it shows how much that gesture is appreciated that the first of the two shows in question sees the venue rammed to the rafters on a Monday night…
Given Northern Ireland's ongoing traumas around masked men turning up in the middle of night to take perceived anti-social "offenders" down dark alleyways and shooting them in the kneecaps, a band with the name Strangers With Guns might seem something of a misnomer… But, the Dublin trio introduce themselves surprisingly politely before, despite some initial technical problems, launching into their thick, grungy indie-pop driven by big, beefy bass riffs and primal drumming.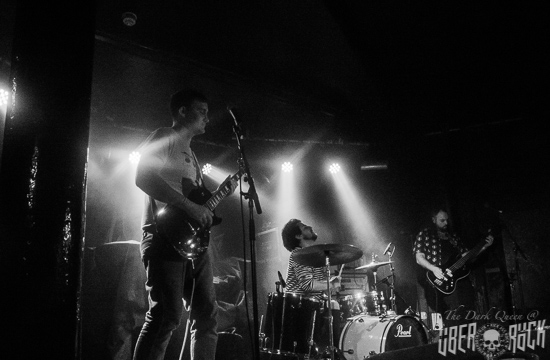 Their funk-infused alt-punk, very much in the mould of the likes of Faith No More and The Butthole Surfers, is taut and angry, but ultimately unfulfilling, albeit well received by the slowly growing numbers in front of the stage.
But, to be honest, we're all here for one reason and one reason only – and that is for the party that Ugly Kid Joe are guaranteed to bring to the stage, and the room, each and every time. And they waste no time in welcoming us to their, and our, neighbourhood. And frontman Whit Crane seems genuinely overwhelmed by the stunning response: "this is fucking awesome", he declares as he gets everyone in the room clapping along, even cajolling the security guard at side of the photo pit to join in this celebration.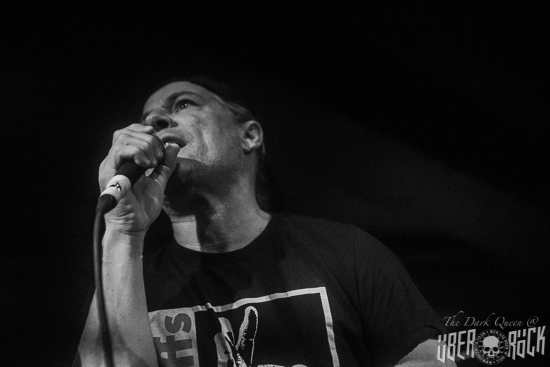 As UKJ deliver party anthem after party anthem, it's worth taking a moment to reflect on the fact that, despite having recorded only four albums in three decades, Crane and his various sidekicks have been delivering this type of crossover vibes since before Kid Rock et al were twinkles in their A&R reps' eyes – and doing it much better, to boot.
By three songs in, DQ has returned from the photo pit and is singing her lungs out, along with nearly everyone else in the room as the band take us to 'Devil's Paradise', proving why they are just 'So Damn Cool' en route, before they hit one of the high points of the night, and a song which has special relevance here in Belfast: we're talking, of course, about 'Cat's In The Cradle', which was used in one of the government's hugely expensive multiple anti-terrorism adverts back in the day.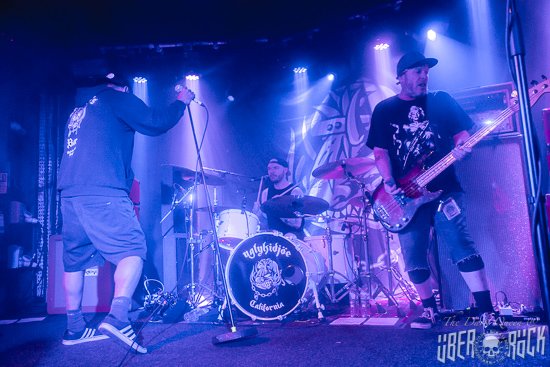 As the set tumbles towards curfew, Whit asks if we want the band to leave the stage and come back from one more song, or stay on it and play two more… of course, we all know what the answer is… and we finish the night with an ever acidic version of 'Everything About You' and a suitably raucous rendition of 'Ace Of Spades', bringing another UKJ party to a typically rowdy, rambunctious and fulfilling conclusion.
Ugly Kid Joe are currently supporting Thunder on their arena tour. They also headline the Engine Rooms in Southampton next Monday (30 May), Epic Studios in Norwich on Tuesday 31 May, The Junction in Cambridge on Wednesday 1 June and Brighton's Concorde on Thursday 2 June.
PHOTO CREDIT: All photos © The Dark Queen/Über Rock. You can view our full gallery of photographs HERE.
All content © Über Rock. Not to be reproduced in part or in whole without the express written permission of Über Rock.