By Jase Walker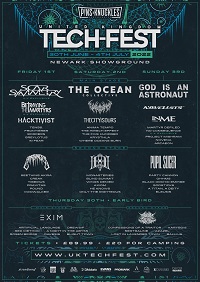 With UK Tech-Fest 2022 upon us, I've put together a list of my favourite acts that I'm looking forward to across the weekend, as well as a little bit of a monologue on why I love this small festival so much and why it means a lot to me!
Tech-Fest is a particularly small festival by all accounts, with maybe a thousand people across the whole weekend descending on Newark Showground in the Midlands. Since going for the first time in 2018, I've built a solid social circle with close friends from around the ÜK as well as a number throughout Europe. Built around the ethos of "no clashes" as the shows bounce back and forth between two stages, and a campsite that is immediately outside of the hangers that contain both stages, it's easy to quickly dip out for a breather, a drink back at camp or just to socialize with random people.
The bands that play often tend to hang around for the full festival too and it's built a loyal following over the years and is commonly referred to as "mates fest" by regular goers.
But without much further ado, here's my "eight acts you can't miss" list across the weekend, in no particular order:
The Ocean
If you want long, crushing, atmospheric, prog metal then you needn't look much further than The Ocean. With a back catalogue of concept albums with similarly complex tongue-twisting names, getting to see a headline set at Tech-Fest is going to make Saturday night an absolute blinder for me!
Project Mishram
You know what's better than djenty prog metal? Djenty prog metal mixed with bhangra! These absolutely blew me away at UKTF 2019 with their Indian folk take on prog metal, including some of the most mind-bending rhythmic vocals you've ever heard.
Greylotus
Good old slice of frantic, chaotic tech-death featuring members that have been around the block more times than you could shake a stick at. If you've come across Drewsif in any capacity, you don't want to miss out on these.
Exist Immortal
Thursday headliners and a real solid favourite of mine, London based prog metal outfit Exist Immortal are set to make sure everyone goes to bed on that night with a ringing in their ears and tired legs from bouncing around in the pit for ages. Great fun to watch live.
Recommended Song: In Hindsight https://www.youtube.com/watch?v=eEWQnM-hkCU
Sertraline
Yeah, OK, I get it, I talk about these way too much and follow them around like some horrid little hanger on. I take no shame in that though, seeing these lot grow over the years and play some pretty outstanding shows, I refuse to shut up about them!
The Five Hundred
These guys dropped one of the best metalcore albums of 2021, it's a hell of a ride that wastes absolutely zero time in going straight for the throat and not letting for the whole album. Dropkick ya nan.
Novelists
French metalcore group Novelists are a real long-term favourite of mine and penned two of my most regularly listened albums, 'Noir' and 'C'est La Vie'. It's just some real bloody solid emotional metalcore that effortlessly bounces between crushing verses and choruses that make you want to put your hand on your heart and belt the words out.
Novena
Quite literally a collection of some of the finest musicians around that are all extremely well known in the tech scene, fronted by one of my favourite vocalists in prog, Ross Jennings. Making incredibly complex music, yet keeping it extremely easy to listen and jam along to, see me at the front barrier absolutely failing to clap along to 'Corazón'.
Tech-Fest takes place at Newark Showground from Thursday (30 July) until Sunday (3 July).
All content © Über Rock. Not to be reproduced in part or in whole without the express written permission of Über Rock.