By Jim Rowland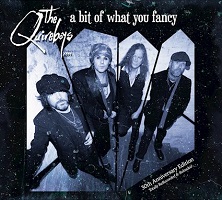 It's now 31 years since the Quireboys released their debut album 'A Bit of What You Fancy' in January 1990 to much acclaim and success in equal measure. To mark the 30th anniversary of that iconic album, rather than going down the 'remastered and expanded' route than many bands do, they've decided to re-record the whole thing with the current line-up, which still features Spike and Guy Griffin of course, and with the band's current 'gypsy rock 'n' roll' sound injected.
It's easy to forget just how successful 'ABOWYF' was at the time, reaching number 2 in the UK album charts, spawning four top 40 singles, and gaining some credible chart success in the US too. It was the culmination of a fair few years' hard graft for Spike to get to that point, and although it didn't propel them to stadium-filling status, it did lay the foundations for a thirty-plus on/off career that still sees the band pack out concert halls all over the world. Indeed many of the tracks from the album, such as '7 O'Clock', 'Sex Party', 'Hey You' and 'There She Goes Again' remain crucial staples of the Quireboys' live set today.
There's not much point going into detail on the songs – we all know what ones were on the album, and how good they were, and here they are replicated, or 'reloaded', in the same running order as the original album. The main question would be was it worth re-recording this now classic album over thirty years later, or should it have been left alone. Well I have to say the results are surprisingly good, making this a great companion piece to the original release. The original album was big budget, produced by Rod Stewart associate Jim Cregan, and had a pretty huge, expansive sound to it. It was, however, recorded at the end of the '80s, the decade of dated production. Whilst it didn't suffer too badly from that, the drum sound did have that reverby, processed sound that many rock albums of the period had. Here, the drum sound has a much more organic, 'real' feel to it, and you can actually say that about the whole thing. It may not have had the same big budget or the expansive sound that that budget can buy, but it does capture the gritty, sleazy, dirty essence of the Quireboys today perfectly. The edges are rougher, not smoother, and that's a good thing. Of course, 30-odd years of a gypsy rock'n'roll lifestyle has made Spike's voice a little rougher, not smoother, too and if anything, even more Rod-esque, with tracks like 'Sweet Mary Ann' and 'Roses & Rings' even more Faces-esque too.
All in all, re-recording and 're-loading' 'A Bit Of What You Fancy' has turned out to be a very worthwhile project. It would be worth your while checking it out. The CD features two live bonus tracks in the shape of 'Mayfair' and 'Man On the Loose', whilst a very tasty blue vinyl 10″ double LP edition will be available towards the end of September.
'A Bit of What You Fancy – 30th Anniversary Edition' is out now. You can get your copy HERE.
The Quireboys are due to play The Picturedome in Holmfirth on Saturday 28 August and The 1865 in Southampton on Thursday 2 September, with other dates, including support slots with The Dead Daisies, to follow later in the year.
All content © Über Rock. Not to be reproduced in part or in whole without the express written permission of Über Rock.