By Jess R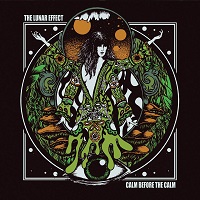 Hitting out with their new album 'Calm Before The Calm', The Lunar Effect has shown that there is a lot to them that should not be ignored. With a large mix of genre influences seeming to be tied between both psychedelic and grunge rock, they have released an incredibly solid and time travelling album.
Every single song has something unique about it which is very special when listening to an album such as this one. There are songs that contrast every so slightly within the album however they both carry that "authentic" sound which is fluent throughout the entire album. Upon first listen,  hearing the songs which carry a slightly different vibe may throw you off however the album would be relatively boring to listen to if there wasn't that mix up between the songs. Stylistically the tones are all consistent with that warm and fuzzy sound which flows between all of the instruments in contrast to the fresh drum cymbals which add a nice embellishments which are never too much during any of the songs within the album.
Listening to the tracks you are able to get lost into a new place every time with the trance like affect the music casts upon the listener. It is such a raw album and you can feel the passion that went into creating this piece of work. 'Calm Before The Calm' feels as though it has been ripped right out of the psychedelic era and hidden away in the archives until someone from the grunge prime came and decided to add some extra flair, for it to be released now.
There are very  distinct signs of influence from bands such as Black Sabbath as well as Soundgarden and Graveyard through all areas of The Lunar Effect. Whilst having such distinct influences the band made clear to make their mark on the genres;  making this album something unique yet familiar to listen to. Every song is encapsulating  as well as incredibly enjoyable to listen to. It will definitely be enjoyed by anyone who likes this style of music. Being such an  incredibly driving album that you can tell highlights the musicianship of the performers who took part in creating it.
This  is a brilliant blend of musical genres with the perfect amount of aggression in the vocal tone contrasting against the psychedelic tones of the rhythm section. It certainly is a kick in the face with heaps of string dynamics and unexpected punch throughout the whole album. Definitely something you will not want to miss out on hearing!
'Calm Before The Calm' is out now. You can get your copy HERE.
The Lunar Effect play The Underdog on Saturday (2 February).
www.facebook.com/TheLunarEffect/
All content © Über Rock.  Not to be reproduced in part or in whole without the express written permission of Über Rock.