By Jonny Bakes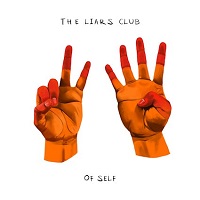 For what is only the second time during my ÜR tenure, I'm fortunate enough to be reviewing a band from my own town's surprisingly active music scene. Yes, that's right, the "cul-de-sac of the UK", Barrow-in-Furness, does indeed have an active and diverse music scene! Last time I was reviewing some old school death metal, but this time it's a complete change of pace with the post punk crew The Liars Club who happen to be based above our local record shop – TNT Records (which is where my wages seem to mysteriously disappear…)
Hot on the heels of their well-received debut EP 'Dormant', The Liars Club take things a bit more personally with their follow up effort 'Of Self'. And this is an EP that's another fine example of the new age of punk that has been expanding in recent years, with a range of influences from across the eras combining to form a powerful voice to convey their insights on the state of the world. Each track on the EP is chock full of energy and pent-up frustration that results in something that really pulls you in and makes you take note of the issues that they're bringing across which really represent the struggles within their own town. Hitting on topics such as the growing number of people in poverty and the mental health crisis that has been brewing in Cumbria for years and is being seen across the country, there's a brutal honesty to these tracks that definitely appeals to me.
Standing out is the first track '8 Tonne' which has a really catchy, and almost funky, leading riff that is reminiscent of some of the early '00s indie music but this leads into some fuzzy bass lines and rolling drums to accompany Noah's vocals. The vocals are an interesting mix that sit somewhere between rapping and breathy shouting, while at others almost sounding like Keith Flint in his vocal delivery. It's the vocal style of someone who really knows how to make an entrance, and I can only imagine how much energy he'll bring to their live performances! I guess I'll have to make my way down to a show to find out for myself!
Overall, 'Of Self' is a seriously energetic post punk effort that combines the sounds of bands like the Damned with cross-genre elements to forge a sound that will stick with you long after the record stops spinning. Definitely something that will appeal to fans of the post-punk genre as this fits pretty firmly within that bracket I would say, but I think it would also appeal to those who enjoyed some of the more experimental tracks on the latest Foo Fighters album and are looking to take a dive into the deep end and experience the fringes of the music scene. All in all, it's a two for two for the remote town of Barrow in Furness, keep 'em coming guys!
'Of Self' is released today (Friday 18 June). You can get your copy HERE.
The Liars Club are due to play The Sun in Ulverston next Thursday (24 June) and The Castle in Manchester on Friday 2 July.
www.facebook.com/the.liarsclubofficial
All content © Über Rock. Not to be reproduced in part or in whole without the express written permission of Über Rock.