By DJ Monk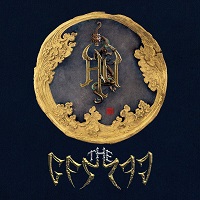 If there was one band whom you couldn't miss in 2019, it was quite possibly The HU, who came storming out of Mongolia with the ferocity of that most famed of their ancestors, Genghis Khan, and proceeded to conquer the world with their blend of traditional throat music and modern metal miens. Here in the Über Kingdom, their debut full length offering smashed its way into the album charts, and the band rampaged across Europe on a sold out tour – one of the last by an international act before the continent went into lockdown over the Covid-19 pan(dem)ic.
However, despite reaching the dizzying heights of being voted #3 in our 'Albums Of The Year' poll, we at Über Rock seemed to sleep through the first wave of the invasion, as we unforgivably didn't actually review 'The Gereg' on its initial release; so, we're now correcting that imbalance by wrapping our ears around this new "deluxe" re-issue, which features previously unreleased collaborations with various other metal luminaries and a trio of acoustic re-recordings. It's a timely release, as the band are just about to re-enter the studio to record the follow-up, a process begun during their enforced lockdown in Australia, where their world tour ground to a shuddering halt when the beer bug struck…
It has to be admitted that, at first listen, 'The Gereg' definitely sounds much like a traditional folk album, the sort of world music sound that Peter Gabriel would have championed in his quest to be seen to "hip" and "trendy" back in the late Eighties and early Nineties. It is also initially hard to ascertain why this has been categorized as a heavy metal album, and how it fits into the strictures which the genre appears to apply to itself: I mean, there are no guitars turned up to ear-shattering levels, no thundering bass runs, no blastbeats… instead, there are… well… horsehead fiddles, jaw harps, wooden flutes and throat singing…
But, then the realization starts to dawn: yes, there are drums, rumbling in background like Mongolian horsemen pounding across the steppes, slowly building in momentum, their blood pumping with slow-burning intent, until by the time 'The Great Chinggis Khaan' himself arrives to recount 'The Legend Of Mother Swan' you are totally enraptured in what is washing over you and the intent becomes extremely clear: The HU are here to conquer all before them, with a clarity of purpose not seen in half a millennia.
If you've already come under the spell of The HU, you'll not need me to remind me you about the main body of the album, as it is unchanged from that which made such a massive global impact when it was released just over nine months ago. What I will say is that, as so many will have already discovered, it is an intriguing and spellbinding album, and one which truly breaks new ground in terms of combining traditional and modern musical miens, with the musicians remaining true to the vast heritage of their homeland and its distinguished history while at the same time producing a sound which is fresh and challenging to ears not used to such interactions and interlocutions of genres and conceptions.
As mentioned above, this re-issue – well, it could hardly be described as a "deluxe edition" if it didn't bring some added value to the package – features six reworkings of five of the tracks: yes, I know that math doesn't seem to add up, but the reason will become obvious in a couple of paragraphs… Demonstrating the international appeal, and respect, which the band has garnered since they took their first tentative steps onto the international stage, there are three collaborations, with Papa Roach's Jacoby Shaddix and Halestorm's Lzzy Hale being the most notable co-conspirators, alongside much less well-known rapcore labelmates From Ashes To New.
These interpretations add English lyrics to the original versions, with Shaddix's version of 'Wolf Totem' turning it into a fist-pumping battle call, leading the Mongols on the next phase of their invasion plan, while Hale adds a stunning, and very suitable frail-yet-strong sounding, twist to 'The Song Of Women', albeit with a minute and a half chopped off compared to the original version. In between, FATN, and particularly frontman Danny Case, transform 'Yuve Yuve Yu' into an anthemic industrial/nu-metal style headbanger.
This edition rounds out with acoustic versions of three of the earlier tracks, 'Shireg Shireg', 'Yuve Yuve Yu' and 'Shoog Shoog'. The middle of these is obviously the most interesting, as it is the one song to have been given three different treatments on this version of the album… Over the years, I have frequented many an Oirish shebeen, enjoying a late night/early morning lock-in while the dark stuff has flowed, the bodhran has rattled, the fiddle has fiddles and some bloke in an Arran sweater has stuck a finger in his ear and warbled about a lost love and her long flowing locks or heroes of yore: this final triptych of songs evokes those memories and environments, albeit swapping the Guinness for a quart or four of arkhi…
Here at ÜRHQ, we may have come late to The HU's campaign of global dominance, but we most definitely, and defiantly, declare ourselves a proud vassal state and will henceforth pay due homage to these particular conquering heroes. Welcome to the new Mongolian Empire.
'The Gereg' (Deluxe Edition)' is released next Friday (10 July). You can get your copy HERE.
You can watch The HU's homecoming show at the White Rock Centre in Ulaanbaatar last weekend HERE.
www.facebook.com/thehuofficial
All content © Über Rock. Not to be reproduced in part or in whole without the express written permission of Über Rock.