By Jim Rowland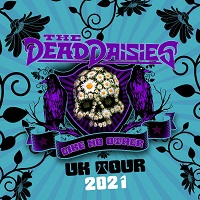 Finally able to tour this year's 'Holy Ground' album, the Dead Daisies, now fronted by  the legendary Glenn Hughes, hit London as part of a ÜK tour featuring special guests the Quireboys and for the London date only, Grand Slam. Perhaps ticket sales had initially been a big sluggish, but a last-minute HRH offer of tickets for a fiver ensured the house was packed for this quality triple bill.
The last time I saw Grand Slam was at the old Marquee Club in Wardour Street, sat on the edge of the stage, wedged between two monitors, and about four feet from Phil Lynott. Thin Lizzy had split the year before, and whilst not Lizzy, Grand Slam were welcomed with open arms, by the fans at least, as the next best thing. They had some decent tunes, but unable to secure a suitable deal, they didn't last long. Given that, a few eyebrows were raised when guitarist Laurence Archer reformed the band a few years back. They have to hit the stage early tonight, not long after the doors open, but the house is already reasonably full for their very enjoyable set. It's great to hear some of those old Lynott-penned tunes again, like 'Nineteen', 'Military Man' and the 'Emerald'-esque 'Sisters Of Mercy', and the likes of the recent 'Hit The Ground' prove this line up can still knock up a decent tune to sit alongside the oldies. The crowd tonight certainly agree, and they get a very decent reception, which is well deserved.
The Quireboys could get a party started anywhere they go. Spike is an old hand at this game now, and a formidable frontman who really gets the crowd going tonight. They put out a re-recorded version of their classic debut album 'A Bit Of What You Fancy' this year, marking its 30th anniversary, so it's no surprise that tonight's set is drawn exclusively from that album. The likes of 'Whippin' Boy', 'There She Goes Again', 'Hey You' and '7 0 Clock' go down a treat. No 'Sex Party' tonight, but enough to spark a rock'n'roll party for sure, which is always the case with The Quireboys.
I must admit I haven't paid much attention to The Dead Daisies up to this point, but the introduction of Glenn Hughes on bass/vocals has certainly piqued my interest. Not surprisingly, the majority of the DD originals in the set come from the latest album, 'Holy Ground', the first to feature Hughes since he joined in 2019, and the likes of 'Unspoken', 'Chosen and Justified' and 'Bustle & Flow' are very decent tunes indeed. That's not to say the material from previous incarnations of the band, such as 'Lock'n'Load', 'Mexico' and 'Dead and Gone', are any weaker, with Hughes' interpretations of those songs spot on.
The selected covers in the set, namely Creedence Clearwater Revival's classic 'Fortunate Son' and the Sensational Alex Harvey Band's 'Midnight Moses' get a huge response and a pretty huge sing along too. However, with Glenn Hughes up front in this latest incarnation of the Dead Daisies, it's inevitable that a couple of classics from Hughes' illustrious past are brought out. In this case it's two heavy hitters from his Deep Purple days with 'Mistreated' quite superb, and 'Burn' rounding things off in spectacular fashion. In fact it's a real treat just seeing him sing that original 'you know we have no time…' line, a real moment of hard rock history.
The whole idea of the Dead Daisies is of course that it is a bit of a super group, with Doug Aldrich and founder David Lowy putting in solid performances on the guitars, and Tommy Clufetos shining bright on the drums. They all pull their weight, but you can't help wondering, given the stature and history of Glenn Hughes, whether his inclusion has overshadowed the Dead Daisies to some degree, and comes across a bit like the latest Glenn Hughes project. There were certainly a few comments pointing in that direction from the audience, and to be honest, I'm not complaining.
All content © Über Rock. Not to be reproduced in part or in whole without the express written permission of Über Rock.