By Jase Walker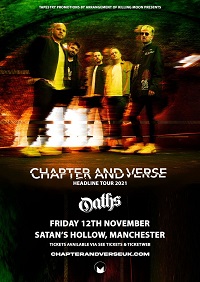 Tonight's show at one of Manchester's well-known night clubs hosts Chapter and Verse with Oaths in support. It's been a while since I've seen Chapter and Verse, actually at this very same venue supporting Emarosa, and I'm excited to see what they've been doing in the meantime.
Oaths hit the stage, not messing around getting straight into bringing the noise, and I think I might have found the wrong band because this most definitely isn't alt-rock, but more towards metalcore. Gotta hand it to them, their movement on stage is great, not often you'll see people ballsy enough to swing their guitar around their neck in the first song!
These guys are really bringing it. This is why I always turn up to gigs as early as I can because seeing support acts like this just kill it in the way Oaths are doing right now is a joy to behold. I mean you've got a great combination of solid riffs, catchy melodies, clean and unclean vocals all packaged into a band that's as entertaining visually as they are sonically.
Judging from what I could find with a quick bit of extra research, it looks like they've since expanded the band a bit since last year going by some of their social media. On the whole, they packed out Satan's Hollow with their thick chunky sound, which is sometimes hard to do given the centre, circular stage that this venue has. I will definitely be keeping an eye out for these guys in future, I'd love to see them on a bigger stage than Satan's!
As with most gigs at Satan's, it's not long before the headliners hit the stage. It's great seeing a band that was an early support act headline their own show this time. The moment they hit that first note the crowd immediately comes to the front of the odd, circular stage. These guys are a great example of polished songwriting and their singer reminds me a lot of Einar from Leprous with his soaring, high register singing, superb stuff.
Chapter and Verse are basically a summary of what I love in a lot of music these days, banging riffs mixed with amazing singing, I really can't get enough of this. 'Sweet time' goes down a treat with plenty of heads bobbing around and engaging an audience that may not know them too well. I absolutely love this heavy pop thing these guys do, it's a fantastic fusion of metal style with pop sensibilities that reminds me a lot of Issues.
Playing their most recent single, 'Medicate Me', I'm reminded big time of why I took a shine to this band so much in the first place. Ebbing between an atmospheric verse and a chorus that just goes so bloody hard but with such an amazing singalong chorus, I can't get enough of it. I really hope in the coming years I get to see these guys on a stage where I can just cut loose in the pit because Satan's isn't really built for it (unless you're After the Burial).
Both bands here really deserve more attention, and with the show that both have put on, no doubts that I'll get to see them grow over the coming years because they both deserve that.
All content © Über Rock. Not to be reproduced in part or in whole without the express written permission of Über Rock.