Interrogated by Jonny Bakes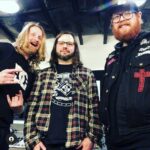 Having lived in the North West for the better part of a decade now, I'm used to hearing the phrase "them bloody kids" being bandied around and generally it's referring to the hordes of kids that hang around in places like the park or outside McDonalds. What I didn't expect is for this particular group of bloody "kids" to be a hard-hitting alt-rock/groove metal trio from down London way…
Having been already smitten by their debut album, 'Radical Animals', this past week I took the opportunity to hook up (virtually, of course) from my remote ÜR outpost with frontman Seb to have a chat about all things TBK. Among other things, we talked about:
the new album: it gives the world a chance to get to know the message behind the band… Who we are as Them Bloody Kids and what we stand for;
London: I love Camden… there's no businessmen in suits trotting around looking depressed…You get punks begging for money to have beers, you don't get that anywhere else;
music videos: "[Radical Animals] shows a dystopian UK with the Prime Minister waging nuclear war and it's about the people standing up and fighting against that oppressive power;
Devon: Now you mention it, there was probably a lot of cider on the bar… more so than beer;
booze: There's some screaming at the end of 'Molly' and at the beginning of 'The Demon'… Darren drank a whole bottle of rum and we locked him in the vocal booth…
the future: Join us on the journey man… we've got a long, long way to go. It's going to be a long life with TBK, so strap in and get ready to go!
'Radical Animals' is out now. You can get your copy HERE.
All content © Über Rock. Not to be reproduced in part or in whole without the express written permission of Über Rock.