Interrogated by Monk
Danny Beardsley may be best known as the guitarist in instrumental prog rock trio The Parallax Method, but that hasn't stopped him finding his own voice, quite literally, as he has taken advantage of the Covidications of the past two years or so and the down time which which they forced him and so many other artists into enforced circumstantial changes to record not one but two solo albums.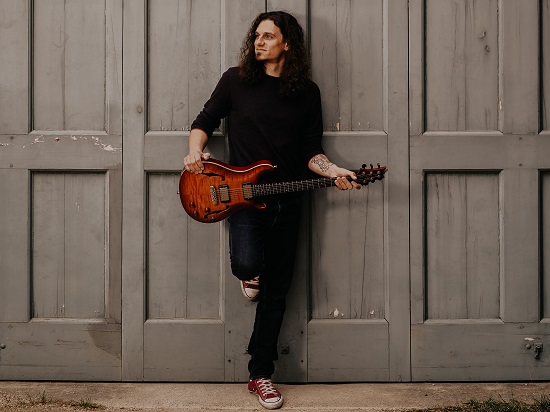 The second of these, 'Chase The Sun' is set to be released in just under two weeks' time. So, that provided us with an apt opportunity to catch up with him and find out a bit more about what has been going on in his life and what the future holds.
I started off by asking him what motivated him to branch out as a solo artist?
I suppose it is a creative outlet I can use to challenge myself as a songwriter. I'm learning a lot about myself along the way. I tend to write differently on my own and in turn I've discovered lots of new sounds. My fan base has grown too, which is bad ass, as its not so niche as The Parallax Method for example. I do not take that for granted. 
Music is categorized into various genres and sub-genres. How would you define your sound? What influences do you draw on for your sound?
I think I fit somewhere in the "rock" category generally, but I draw a lot of inspiration from the Prog realm, country, blues and jazz. Compelling lyrics is paramount and a catchy melody is what I seek. 
There are too many influences to list but I suppose I'm influenced by Queen, Eric Johnson, Big Wreck and Incubus. I think all artists borrow certain aspects from their heroes and hopefully generate something of their own. That is the aim anyway. 
You're just about to release your second solo album… can you tell us a bit about it?
It is an attempt at incorporating some more of my influences to create a more dynamic record. My vision was to incorporate a contrast in tones, to incorporate more clean guitar parts and more of my technical lead lines. I wanted to experiment more with vocal melodies and push the lyrical content forwards from a sincere place. 
I'm hoping there is something in there for everyone. 
Are there any particular lyrical themes/personal issues you are addressing in your songs?
The bulk of the album is tackling my fear of death and my struggles with anxiety. From 'No Regrets', which is written for my daughter, to 'Forever' contemplating the idea of an afterlife. 
I'm a very deep thinker, questioning my own existence/purpose which eventually lead to a decline in my mental health. This album helped me tackle a lot of those fears and how to cope with any intrusive thoughts. 'Hurricane' is an old song I wrote which I reworked and is inspired by Ruben 'The Hurricane' Carter. 
The lyrics for 'Lonely Mile' were actually written by my wife. They are to highlight the day to day struggles faced by people who care for a loved one. Unpaid carers. This will be the second single from the album and the video will signpost people to Carer's Charities.
How important is social media in getting your music out there?
I think it is important in this modern age if you're trying to share your music/art with others but equally an added pressure. Interacting with followers/friends/fans and discovering others is the best part for me. 
Hearing that my music is enjoyed by others is very heart-warming and social media makes it a little easier to spread the message.
Is it more important than, say, streaming outlets especially given the fact that the financial returns for streaming can mean a band doing a lot of work for relatively little reward – i.e. you earn very small percentage returns, with the services themselves taking large chunks of your potential income. Is it worth the effort, or is it a fact of the business that you just have to accept?
I create and share music because I want to. I love the challenge and the journey of creating something from nothing. If my aim was to make masses of money I wouldn't be on this path. Like most other musicians recording and performing original music, we have other means of financial income to enable what we are passionate about. So yes, I must have accepted this a long time ago, or maybe I'm just doing something wrong. Either way it won't stop me!
The pandemic of the past two and a bit years led to a lot of bands/artist having to explore other methods of generating income marketing themselves. I'm thinking of how many bands found themselves having to go down the live streaming route. And a lot of them charged their fans for watching the shows. I know there are pros and cons to "free" versus "pay per view", but as a young artist I'd be interested to know if, given the shitfuck of the past two years, it is more important for you to get your music out there than to make money out of doing so? I guess the point I'm making is "is it worth some short-term pain for long term gain"?
Being absolutely honest I think it is based on how successful the artist is (whatever that means). For myself, I am more interested in getting my music out there than making a quick buck. 
Life does seem to be getting back to some form of normality, but do you think the option of things such as lives streams will continue to be used by bands and artists, especially to reach into territories where they may not be able to play, or afford to go to?
Potentially but speaking personally the interaction between an artist and a live audience is irreplaceable. I think the majority of performers would prefer to be in the same room as it's audience. That being said, it does present more possibilities to see artists we just cannot find the time or afford to see as fans. 
So, what is next for you? What is the plan for, say, the rest of 2022 in terms of getting out there and bringing your music to new and expanding audiences?
Promoting the album is my main goal for 2022. Plus, I didn't get a chance to promote the debut album because of COVID. So there are lots of opportunities to share my music with others. 
I've been stuck in the studio for the best part of two years and need to get back out performing, despite how rusty I am! Wish me luck! 
OK, now a bit of fun, and a couple of quickfire "out there" questions to give us a wee bit of an insight into your personality:
Ice cream: vanilla or strawberry? Strawberry.
Gravy or curry sauce on your chips? Gravy.
Salted or sweet popcorn? Sweet.
Buckfast or Iron Bru? Tea, lol.
Smarties or M&Ms? Smarties.
Pineapple on pizza? Absolutely!
Final question: If you had your choice of any bill to be a part of, who would be the three other bands (signed or otherwise) you would choose to play with?
Big Wreck, The Eagles, Peter Frampton.