By Monk
If a band adopts a name like Stöner, then it's not hard to guess what sort of music they play… even more so when said band's line-up features two of the founding fathers of the genre, in the shape of one half of the original line-up of one of the THE seminal desert rock bands… We are talking, of course, about a project that has seen the reunion of Brant Bjork and Nick Oliveri after a decade-long separation, to bring back to life the sounds that spawned a generation of copycats.
With the band about to release their second album, and hit Ireland and the ÜK (in that order) for a string of shows, I took the opportunity to catch up with Brant Bjork to talk about how the project – completed, of course, by the inimitable Ryan Güt – as well as their tangible excitement at playing together again, the organic nature of the band's evolution, what it is like to be back on the road… and, of course, what might happen if a certain two other band mates might decide to want to jam out some old tunes with them once again:
Stöner's second album, 'totally…', is released via Heavy Psych Sounds on 6 May. You can get your copy, and loads of other goodies, HERE.
Stöner's tour dates are as follows: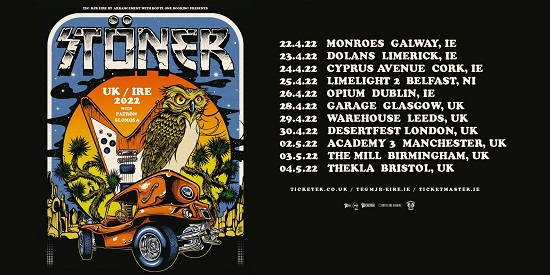 www.facebook.com/StonerBandOfficial/
All content © Über Rock. Not to be reproduced in part or in whole without the express written permission of Über Rock.