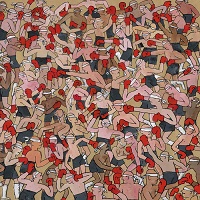 A debut EP from upcoming Londoners Talk Show is a good reason to be talking music here, as the Peckham act are taking on from other upcoming acts such as Fontaines DC in their downbeat yet up-tempo approach to song writing, adopting the dark sound of new wave and post-punk luminaries such as Gang of Four, The Cure and The Cult and adding a bit more of their own verve into the tracks to create a rather interesting sound.
'Banshee' has more of a The Cure feel to it than the other tracks on this particular EP, with that new wave meets darkwave period firmly in mind, while there is a most definite collective feel to the EP overall, meaning that while the individual tracks are quite succinct none are in any way out of place or ill-fitting in comparison to those around them. Very much post-punk in a lot of things, crossing into some righteous punk anger at times, especially in the second track, 'Atomica' as frontman Harrison snarls, 'I wonder what they told ya if you are telling the truth', with that driving bassline and drums behind everything being delivered with authority. 'Stress' is the other pre-released track which has a guitar tone of The Cult's 'Rain' through the verses and an overall sound of New Model Army at their best.
While their sound is not unique, their songs are well written by what is a clearly talented band and they do an excellent job, even more so when you bear in mind that this is their debut EP. 'These People' may not be setting a trailblazing path, but it is a fantastic example of how the post-punk and punk crossover of the likes of New Model Army still lives on in the younger generation and is in very capable hands. I'm certainly thirsty to hear more and this EP should be a sure thing for anyone interested in the above mentioned acts or genres.
'These People' is released on Friday (27 March). You can get your copy HERE.
www.facebook.com/thetalkshowband
All content © Über Rock. Not to be reproduced in part or in whole without the express written permission of Über Rock.