Tonight, we head to Ahoghill Rock City to the legendary Diamond Rock Club for local power metal legends Stormzone in what will be their first gig together on stage in 20 months.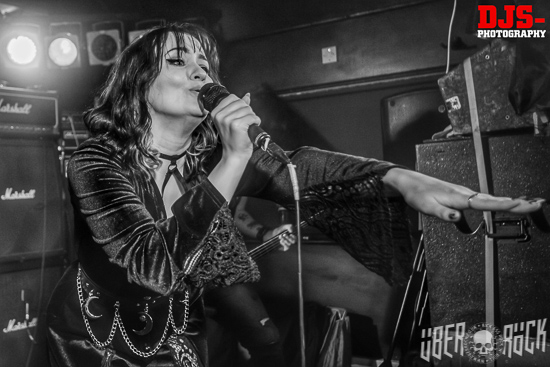 The show opens with support from symphonic power metal band Ravenlight. This genre of rock music seems to have new acts popping up all over the place these days, but Ravenlight bring something a little different to the table with adding a somewhat Celtic feel to their material. Now I will admit, I am not a huge fan of this type of music and am pretty selective of the bands within the genre that I do like, but Ravenlight are one of the better ones.
I have managed to catch them live on a handful of occasions and have been impressed with them that little bit more on each outing. Tonight though was a very different band. With the addition of Dean Ashall-Kane on bass guitar, it brought a very different dynamic to the band. For those who haven't seen him live before, he is a damn solid bassist and very animated on stage with great presence. Singer Rebecca Feeney seemed more relaxed and natural than I've seen her before and looked as if she was having a lot of fun up on the stage, as did drummer Michal Bugajski, who was pounding and smiling away behind the kit.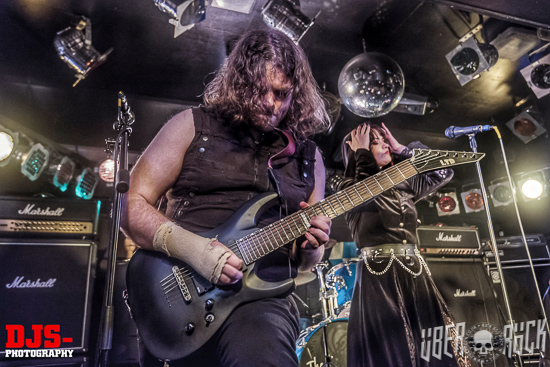 Considering guitarist John Connor did the show with a fractured wrist, this didn't seem to hinder him at all and he played superbly the entire show.
There were some feedback issues from Rebecca's mic on a couple of occasions during their set, but this certainly didn't take away from the overall performance of the band, as for me, this was the best they have looked and sounded yet. As I said before, the band seem to get that little bit better with each outing, but tonight they really brought IT and left it all on the stage to an audience that really appreciated and was behind them in their performance.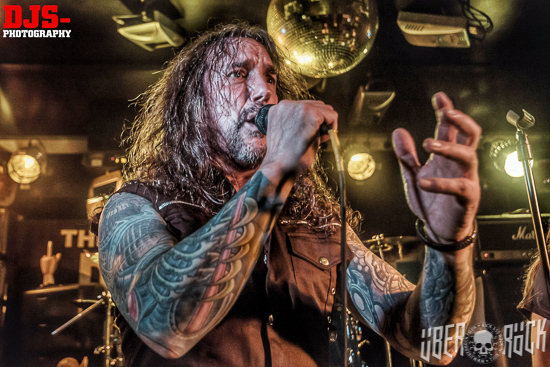 Power metal veterans Stormzone take to the stage in what is their first gig at The Diamond Rock Club in three years. How apt that they opened the show with 'Where We Belong', because on stage is where these guys DO belong and you certainly wouldn't have thought it was their first time together on a stage since September 2020 as they haven't missed a beat and sound just as tight and solid as ever.
John 'Harv' Harbinson was and is the animated and charismatic front man as always, delivering sheer perfection behind the mic with his always powerful and distinct voice. Dave Shields kept things tight on rhythm guitar and on occasions stepping in to play lead and was as solid as always. Steve Moore with his powerful and blistering solos was prefect in his delivery as always and as per usual, never failing to impress. Graham McNulty provided the perfect groove for the band on bass guitar. And finally, the legendary Davy Bates proving the thunder of the band behind the drum kit.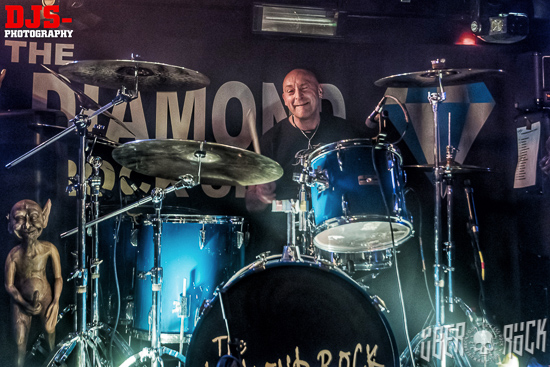 Whoever put together the set list (probably a band decision) did a perfect job at compiling which material to perform. Pretty much every aspect and standout of their fifteen year career was covered here. From 'Another Rainy Night', 'Death Dealer', "Immortals", 'Hail The Brave' and my personal favourite "Three Kings' to the more modern 'Ignite The Machine', 'Albhartach' and 'Dragon Cartel', there was something here for everyone as every era was covered.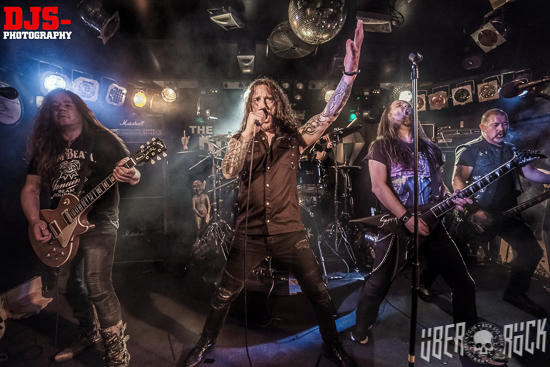 At the end of the day, this was essentially a warm up gig before the guys head out across Europe and the ÜK for the festival season. If tonight was anything to go by, then believe me, you really need to make a point of catching them as you will certainly not be disappointed.
PHOTO CREDIT: All photos © DJS-Photography/Über Rock. You can view our full gallery of photographs HERE.
All content © Über Rock. Not to be reproduced in part or in whole without the express written permission of Über Rock.