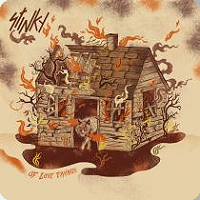 Stinky hail from Nantes, France and I've got to be honest the connections in my brain conjure up blue cheese from these two pieces of information. Does the term mean something different in France than Scotland? I did German at school so I'm not any help here. At least they have my attention, I dig a little and find that they used to be called 'Stinky Bollocks' and refuse to think any longer about this. I won't be able to share. Anyway, the inevitable comments on a strange name over, some serious critique should follow…
I will begin with saying that this melodic hardcore punk band feature a female screamer whose power and aggression will put most metal bands to shame. Better still, her name is listed simply as 'Claire'. I love that, it's Claire Bousigue in case you want to know. Five-piece Stinky are not afraid of hard graft. They are prolific tourers, having peddled their wares at hundreds of gigs over the last ten years, including touring Europe no less than four times in support of two previous albums 'Against Wind And Tide' (2015) and 'From Dead End Street' (2017).
New offering 'Of Lost Things' is released by M-Theory Audio (I really hope this is a physics reference). Featuring artwork by Emy Rojas who has previously created for Queens Of The Stoneage and Clutch, it begins at full speed, gain up to max with 'Revival Fire', a pre-release track. The accompanying video was filmed at Hellfest metal festival in France. Prepare for a thrashed out, hostile feel that breaks to a more melodic, metal track before ramping up the crowd again towards the end. It's tailor-made for live shows. For me it lacks the melodic touch that Stinky are so good at but the purpose here was clearly to stoke live crowds. 'Lame Heart' follows, but there's nothing lame about this intricate offering.  Drummer, Paul directs the pace with impressive drum work and there's a far more punk feel as we see a greater range of vocal ability from Claire.
Track three, 'Distance' is another pre-album release and features on Spotify's current "New Punk Tracks" playlist. Popular on the platform, it has accumulated almost 10,000 streams. A way for the band to express gratitude to loyal fans in times of social distancing, the video is a collection of tour scenes showing the close interaction between band and crowd. Stinky take the opportunity to communicate both a message and a promise; recognition of what live shows and their followers mean to the band and a reminder of what will come when restrictions are lifted. In one track they effortlessly distill the essence of what this band is about, live performance face to face with the fans in the circle pit.
With a change of pace and a demonstration of their ability to write alluring melodies, 'Strangers With Familiar Faces' tells the story of those we used to love but can no longer recognise or identify with. Loss of familiarity is demonstrated with beautiful ferocity here, the guitar work building the rhythm to a screaming vocal crescendo. Nevertheless, Stinky doesn't dwell on things, 'Mind trapped' crashes in, blistering and thrashed out again, a rude awakening from any revelry. The drum rhythm on 'Unloving' shouldn't and almost doesn't work on the first listen, it's almost like guitars and drums are working against each other, but there is a moment of realisation after the breakdown where the two come together and play off each other in an extraordinary demonstration of power. 'Nosedive' is another heavy song but it has an unexpected ending in the form of a sorrowful acoustic melody.
Nearing the end of the album 'The Struggle' begins with a feral roar and wailing guitars. You can hear Claire getting riled and refusing to back down, the challenge invoking a determination to fight back. 'Made It Home' is a song about identity with the resounding message "This is who we are", no matter what home looks like, no matter what you think. A drum solo leads into 'Spring Letter' an ominously brilliant song about the struggle between being yourself and putting on a face to please. Again there's an unexpected piano solo to finish, a perfect ending to the sad tale, now that the aggression has waned. Then we are there at the last, 'Rough Diamond' and I notice it is an unplugged version. The entwined male and female vocals here hold my attention in this well placed winddown from the frenzy.
To sum up then, Stinky is a band who can communicate plenty of menace in the melody. However, they have several more strings to their bow. In 'Of Lost Things' they deliver fast-paced, vehement hardcore energy with punk attitude. To the point, no bollocks, no apologies and certainly no cheese. Three tracks are available now if you pre-order and the album is officially released on June 12.
'Of Lost Things' is released on Friday 12 June. You can get your copy HERE.
All content © Über Rock.  Not to be reproduced in part or in whole without the express written permission of Über Rock.