By Jim Rowland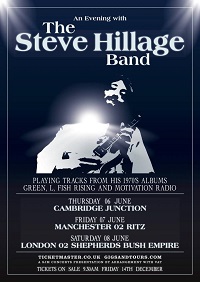 The musical activity that has revolved around the planet Gong has endured for more than 50 years now, and of course a pivotal figure within that activity is Steve Hillage. Tonight is the last of three shows reintroducing the Steve Hillage Band to the live circuit and the first SHB headline shows for 40 years. And what's more, it's the current, and quite excellent, line up of Gong that joins Hillage to comprise 'the band'. So finding motivation to attend tonight was not exactly difficult.
There's a whole generation of fans, like myself, that have grown up with Steve Hillage's classic albums but until now have never been able to  see him perform this stuff live, so tonight's show is hotly anticipated and the Empire is packed to the point that if this wasn't sold out it was pretty damn close. The set is based around material from those classic first four albums – 'Fish Rising', 'L', 'Motivation Radio' and 'Green', with 'The Fire Inside' sneaking in from the 'Open' album too.
With 'Talking To The Sun' easing things in, and George Harrison's 'It's All Too Much' making a surprisingly early appearance, it's 'The Salmon Song' that is the point where everything falls into place and the entire hall is captivated and in unison. It doesn't let up from then on, with tracks like 'Lunar Musick Suite', 'Motivation', 'Ether Ships', 'Palm Trees', the rarely performed 'Sea Nature' and an excerpt from 'Solar Musick Suite' equally as captivating. The set closes in style with a bit of a sing along via Donovan's 'Hurdy Gurdy Man'. It's far from finished there though, with the first encore featuring probably the two tracks I was most looking forward to hearing, namely the excellent 'Light In The Sky', and the hypnotic 'The Glorious Om Riff' which is, well, glorious. The band sign off with a second encore of 'Not Fade Away' seguing into Gong's 'I Never Glid Before', just as it did all those years ago.
Tonight sounded like the Steve Hillage Band had never been away, with the man's voice and distinctive guitar style remaining completely intact. The members of the modern Gong seem to slot in seamlessly to the role of Hillage's band, and of course Miquette Giraudy adds her own distinctive contribution to perfection, and continuity with the original band. This does seem to be some kind of beginning, with a whole tour now announced for November visiting many of the cities these three dates missed out. There's even whispers of a new album, but we'll just have to wait and see with that – the prospect would be exciting.
Whether you're a hardened fan of old, a fan that never got to see the original band, or just a casual observer, I would strongly recommend catching that November tour. Like tonight, it promises to be something very special.

www.facebook.com/stevehillageband/
All content © Über Rock. Not to be reproduced in part or in whole without the express written permission of Über Rock.