By Jolee Flatman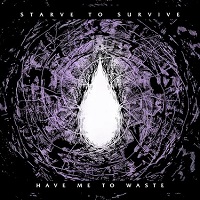 Starve To Survive are a five-piece band from Newcastle, fans of God Complex, Counterparts and Traitors will appreciate these guys. The brutal upcoming EP, 'Have Me To Waste', is of a dissonant hardcore genre, produced by Connor Sweeney. It consists of five hard-hitting tracks that will make you want to spin kick your enemies into an early grave.  
The debut album 'Life // Loss' rapidly gained this band a reputation amongst the hardcore community. Now, if you liked that – you are in for a treat. The new EP aligns most closely with the particular song 'Fall'. The band has kept true to their previous sound, apart from this time round the overall rhythm is more off-beat. Reminding me of the early music days of Sworn In.
Many songs on the EP, such as opener 'Tremor' and initial single 'Dismal' have been constructed to have an eary, haunting background underneath the core of the music. This adds an unnerving, almost horror atmosphere. With the raw, gnarly growls and nasty riffs on top – the songs are truly a piece of gothic art. Moreover, this genre to new audiences could be seen as very similar, as not many bands stand out. However, the core sound makes 'Have Me To Waste' stand in isolation.
My personal top pick from the album by far is 'Dismal', which features Harry Rule from God Complex. It kicks it off early on with powerful riffs and gut-wrenching growls. Followed by a brutal breakdown with the lyrics "drowning in my misery". This would be a moment to remember when performed live.
Overall, I found the album to encapture the hardcore genre to a T, including all of those conventions that we all love. It is a filthy EP, one that will gain this band a lot of attention. The only bad comments I would mention is that the final song 'Have Me To Waste' has a slightly abrupt ending – on a first listen, it made me check what had happened to the song.
They will be playing Goodminds Festival in Manchester on 20 April. Get yourselves down there to go crowdkill some fuckers.
'Have Me To Waste' is released on 15 February. You can get your copy HERE.
https://www.facebook.com/starvetosurviveuk/
All content © Über Rock. Not to be reproduced in part or in whole without the express written permission of Über Rock.