By Monk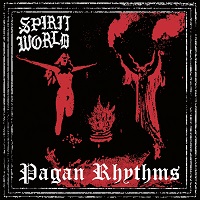 It's Halloween. Well, almost. The clock is ticking inexorably down towards our favourite day of the year, so what better time to cross over into the Spiritworld and dance to the beat of some 'Pagan Rhythms'?
Self-styled as the world's first 'death western' band, due to founder/frontman Stu Folsom's love of both horror and western movies – which also has inspired him to write a book of short stories which accompanies the album and elaborates upon some of the lyrical themes explored herein – Spiritworld's debut was first released Stateside around this time last year, but now has been dusted off and propelled into the wider Überverse thanks to a newly inked distribution deal with the ever excellent peeps at Century Media.
Now, in case you're thinking that the "western" tag might indicate some form of Americana-meets-southern rock showcase a la BSC and their ilk, then immediately put that misconception to the back of your head, along with an accompanying sledgehammer, because the latter is exactly what this hard-hitting debut delivers: a pummelling dose of deathcore meets doom-laden NOLA-style sludge with the emphasis on the HEAVY part of heavy fuckin' metal. Think Corrosion Of Conformity and EyeHateGod jamming with 'Vulgar' era Pantera and 'Arise' period Sepultura and you're somewhere near the ball park in terms of the listening experience 'Pagan Rhythms' delivers.
As you might have guessed, 'Pagan Rhythms' is sonically intense. It is an album that pounds its way uncompromisingly into your aural cortexes, demanding your attention with the furious intent of Conor McGregor fighting his way out of a Dublin pub, then pummels you into submission before stealing your mummy's wedding ring off your pinkie finger and then driving its Panzer over your beloved Beetle. Uncompromisingly brilliant.
'Pagan Rhythms' is released next Friday (5 November). You can get your copy HERE.
www.facebook.com/spiritworldprophet
All content © Über Rock. Not to be reproduced in part or in whole without the express written permission of Über Rock.