By DJ Monk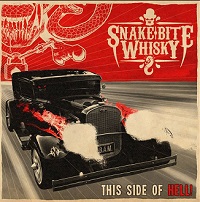 Now, I would never be one to advocate mixing your drinks, and especially not in the same glass, but Australia's Snake Bite Whisky do indeed present a heady brew, as DQ and I found out when we first encountered them at last year's HRH Sleaze festival. So impressive were they when they headlined the second stage that I was compelled to describe their performance as "off the radar, never mind the hook with their dark country-infused sleaze mixed with plenty of glunk groove": ever since, I have been thirsting to hear more. So, you can imagine my delight when frontman Jay R Sleaze winged their long-awaited (well, they have been kicking around the gutters of Brisbane for nigh on four years now) debut full-lengther all the way from the suvern hemisphere all the way to the UR inbox to brighten up an otherwise depressing ball-freezing January…
And 'This Side Of Hell' certainly lives up to the expectations raised during that storming September Sunday evening set in Sheffield, as Stacii Blake's grunting bass riff leads us into the temptations to be found down 'Damnation Alley'. With Al "Ace" Bukva as solid as 100 tonnes of concrete behind the kit, David Arens winds, twists and snarls out his riffs, melodies and solos, while Jay R's vocals positively drip with the sort of lascivious intent that should have SVU on the case.
There is no let up in the intensity of the delivery as we immediately find ourselves 'Down In The Dirt', and lovin' every mud-soaked muthafuckin' second of the experience, before these Aussie lads prove that, despite protestations and predictions elsewhere, sleaze most definitely 'Ain't Dead Yet', even if Jay R feels he needs "another shot of morphine", but instead kickin' up dirt with its best cowboy boots and plenty of "fuck you" punked up attitude.
Talking of attitude, one of the highlights of the aforementioned Sheffied set was 'Spin', which Jay R Sleaze described as "a song about drinking and fucking at the same time": who says us rockers can't multi-task? Imagine T'in Lizzy with Lemmy jammin' on the bass and Phil Lewis sharing the vocal duties with Michael Monroe and you're halfway there… Another highlight of the HRH show had been 'B.A.M', and here it is a beautiful midpoint swivel for the album, closing off the first half with more spunk than an over-excited porn star, topped out with a brilliantly ingenue of a gang vocal and guitars set to kill at a thousand paces.
Side B, to use old-fashioned parlance, kicks off in equally ferocious style with the punked-up challenge be the 'Last Man Standing': another in your face gangbang of a vocal hook, another dense rumbling bass riff pumped with more adrenaline than a Russian weight-lifter on steroids and more whiplash inducing guitar licks and spits. Quite why Jay is 'Drinking For Two' I don't quite know, but that he is doing, as he snarls and struts his way across the Strip in good old-fashioned Crüe-meets-Guns-meets-Rocks style, the drool dripping from every syllable.
Clocking in at a mind-boggling five-plus minutes, 'Another Day' sees SBW take the foot off the gas for the first and only time, with an epic country-infused power ballad which tips its hat as much to countryman Nick Cave as much as it does to Bret Michaels, while still retaining that leery quality, especially in the vocal department, which has characterized the album to date. They take another left turn with 'New Revolution', which combines a classic surfer rock vibe that sounds more like it originated more in a back street garage than Ocean Beach with a smooth alt-rock groove, almost as if they're aiming for a radio-friendly hit single (not that I'm complaining, 'cos they would deserve one), before 'She Likes Machines' brings back that snarl and swagger, with a staccato riff interspersed with some neat slide touches and topped off with another innuendo-laden and convincing vocal from the man named after the genre in which they plough their furrow. Not as ball-grabbing as some of the tracks in the first half of the album, bunt nonetheless a sweet groove on which to end this sweet slice of sickness.
In another review to be published at the beginning of next week, my colleague Gerald Stansbury will talk about how the stars seem to slowly be aligning in the gutter for a re-emergence of sleaze rock in terms of popularity, especially with the quality of albums that are being released. The album he is talking about (you'll have to wait until Monday to see what it is) is proof positive of his assertion: if the band in question need any reinforcements, then they most certainly have them in the shape of Snake Bite Whisky (even if, as I've said before, they can't spell their feckin' name properly). If you don't buy this album, then you need to hang up your bandana, burn your spandex and donate your cowboy boots to the nearest charity shop.
'This Side Of Hell' is released today (Friday 25 January).
www.facebook.com/snakebitewhisky/
All content © Über Not to be reproduced in part or in whole without the express written permission of Über Rock.