By Jim Rowland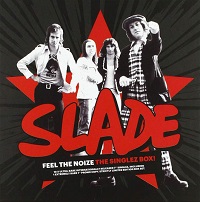 How good were Slade? For me they were one of the true greats of British rock of the Seventies and early 80's. They were also hugely influential, whether it be the American big hair stadium bands (just ask KISS and Motley Crüe), the original wave of Britsh punk, the NWOBHM, right through to the recent wave of 'bovver rock' bands, spearheaded by the wonderful Giuda. Like contemporaries Sweet, they're probably still best remembered as a singles band, but also like Sweet, they did produce a string of excellent hard rock albums too.
Here, it's Slade the singles band that concerns 'Feel The Noize – The Singlez Box', a strictly limited edition box set comprising reproductions of 10 rare internationally released 7'' singles, including an extremely rare 7'' promo copy in a lift off lid box. The box set features five UK number ones – 'Coz I Luv You', 'Take Me Bak 'Ome', 'Mama Weer All Crazee Now', 'Cum On Feel The Noize' and  'Skweeze Me Pleeze Me' – three number twos – 'Gudbuy T'Jane', 'My Friend Stan' and 'Far Far Away' – plus the top three single 'Everyday', all from their imperial phase. The set also includes 1981's 'Night Starvation', from Slade's early 80's metal phase, not previously commercially released as a 7". That list is of course classic after classic, perhaps with the exception of 'Night Starvation', as good as it still is.
Perhaps what strikes you most about this set, bearing in mind these are all familiar tunes, is just how damn good the b-sides are. The likes of 'My Life Is Natural', 'Man Who Speeks Evil', 'I Won't Let It 'appen Agen', 'My Town' and 'Good Times Gals' are prime slices of quality hard rock, proving Slade were master craftsmen of quality songwriting, right through to 'When I'm Dancin' I Ain't Fightin' from that early 80's metal makeover phase, when Slade still fired on all cylinders.
Hardened fans won't get anything they haven't heard or got before here, bearing in mind a double cd of all the b-sides was released a fair few years ago now. But what you do get is 10 slabs of pristine quality vinyl of 10 classic singles, with original picture sleeves from various original releases across different European countries, all housed in a natty box, so it's a great collector's item. If you like Slade but have never heard those B-sides, then get this, or get that B-sides cd – or get both! You won't regret it.
'Feel The Noize' is a timely reminder of what a truly great band Slade were. Now come on Noddy and Jim, get the original band back together while you still can!
'Feel the Noize: The Singlez Box' is released on 6 September. You can get your (limited edition) copy HERE.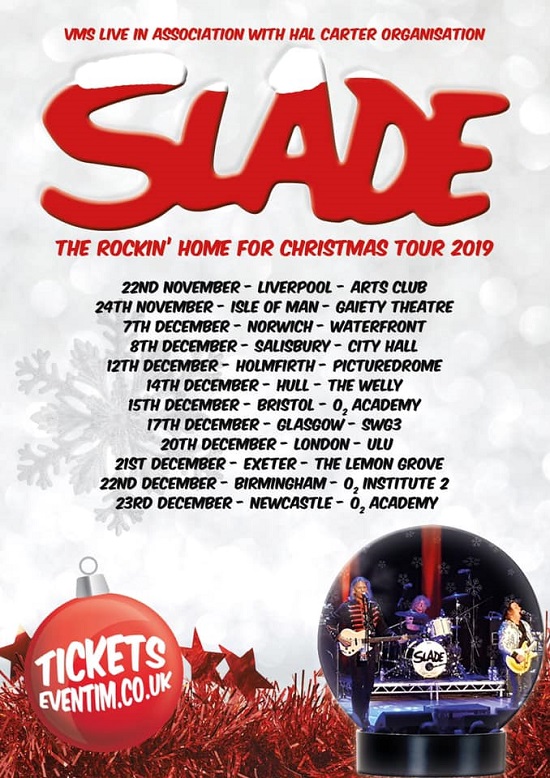 www.facebook.com/OfficialSladeBand/
All content © Über Rock. Not to be reproduced in part or in whole without the express written permission of Über Rock.