By Monk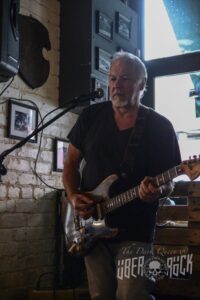 The Über Rock team is devastated to learn of the death yesterday (Saturday 22 May) of one of Belfast's greatest musical sons, and one of life's true gentlemen, the blues guitarist Rab McCullough. He was 72 years old.
A stalwart of the Belfast blues scene for more than 50 years, he had suffered a cardiac arrest at a local leisure centre last Monday and had been in an induced coma ever since. He passed away surrounded by his family.
One of nicest and most unassuming people you could ever meet, as well as one of the hardest working musicians on the Irish blues scene, McCullough counted the likes of Rory Gallagher among his legions of fans. On one occasion, when being interviewed by Rolling Stone magazine, Gallagher was reportedly asked what it felt like to be the greatest blues guitarist alive, to which he famously responded, "I don't know, you'll have to ask Rab McCullough".
Both The Dark Queen and I have had the enormous pleasure of knowing Rab on a personal level as well as a professional one. We live a few minutes' walk from Belfast's historic Empire Music Hall, where he had a Thursday night residency in the basement bar for more years than we care to remember, causing an equal number of Friday morning hangovers. He was one of the cornerstones of the Belfast City Blues Festival, often playing three or four shows each day over course of the weekend. Festival promoter Seamie O'Neill summed up Rab better than many could hope to do: "There are legends. Then there are people who think they are legends. Then there is Rab McCullough."
He was a great supporter of young talent, helping hundreds of younger musicians to find the confidence to take their own steps down their own career paths.
On behalf of everyone at Über Rock, we extend our deepest condolences to his widow Marian and the rest of his family.