By Monk
Italian alt-rockers Måneskin last night became the first group since Lordi to win the much-maligned Eurovision Song Contest, while Finnish "violent pop" upstarts Blind Channel made it a good night for rock music by finishing sixth in the competition.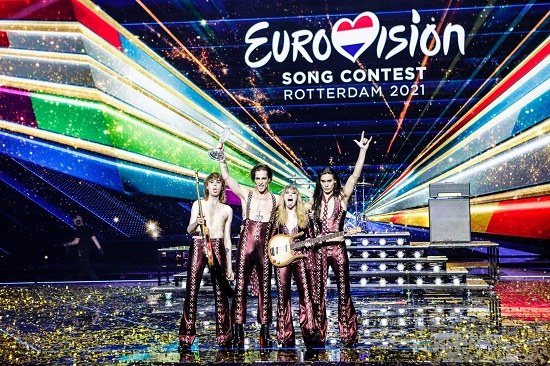 Among the bookies' favourites before the competition, Måneskin performed a slightly rewritten version of their song 'Zitti e Buoni' (or 'Shut Up And Be Quiet'), having to edit out swear words and sexual references in order to adhere to Eurovision rules. The song had already gone double platinum in Italy prior to last night's gala final in Rotterdam, which also saw 3,500 fans allowed into the city's massive Ahoy Arena in the latest test event for live shows. The Italians, who were lying in fifth place after the first round of jury votes, stormed into an ultimately unassailable lead as a result of the telephone votes cast by audiences all over Europe, beating France by 25 points.
After the show, the band declared that their victory proved "rock 'n' roll never dies". And they get an "amen to that" for us here at ÜRHQ.
Their sixth-place finish also marked the end of a productive week for Finland's Blind Channel, who earlier in the week announced that they had signed a worldwide deal with Century Media.