By Monk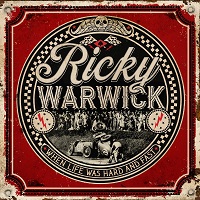 A bit earlier this year, I was engaged in an online discussion with some friends about who was the better songwriter, at least in terms of those to have emerged from what was once the industrial powerhouse of east Belfast. The choice was between the ever erudite and passionate Ricky Warwick and the over-blown, over-inflated and over-rated ego that is the knight of the realm known as 'Van The Man'. You can probably tell from that proceeding comment which side of the argument I (and, indeed, almost everyone else involved in the discussion) came down on…
And that erudition and passion is once again demonstrated and enunciated on this, the fifth solo album from Warwick (who was actually born in a small County Down market town called Newtownards but spent most of his formative years in east Belfast, a place he still fervently and proudly calls home), his first since 2016's 'When Patsy Cline Was Crazy…' (well, he has been somewhat busy with a certain other band in the interim!). Distinctly Warwick in its feel and touch, 'When Life Was…' could be very much regarded as the logical successor, and perhaps even sequel, to 'WPCWC…', not least in their respective retrospective titles but also in their lyrical themes, such as those of reminiscence (the two title tracks), the unifying and edifying power of music ('When Patsy…' again, which couples very neatly indeed with 'WLWFAL' closer, and latest single' 'You're My Rock 'n' Roll') and the futility of war (although this theme was more fully addressed on 'WPCWC…''s companion piece, 'Hearts On Trees'). They are themes which, of course, Warwick also has explored elsewhere, via both The Almighty and Black Star Riders, but they obviously are ones which are close to his heart, and while he continues to deliver his thoughts and feelings with such fiery commitment, then we will continue to explore them with him.
Echoing his continued theme of reminiscence, and the importance of maintaining links with home, especially in such trying times as those in which we currently find ourselves, Warwick once again teams up with his old friend Sam Robinson, with whom he co-wrote most of 'WPCWC…', for the album's opening title track, which gets proceedings off to a suitably rambunctious start, Ricky's distinctive Norn Irish-meets-California drawl backed by a pounding rhythm and a typically Warwickian Celtic rock riff and melody combination. It also sees Ricky renewing another old friendship, in the form of that with Joe Elliott (at whose Dublin studio Warwick recorded his debut album), who once again provides backing vocals…
As with much of his solo output, there are songs that could quite comfortably fit on any of his other project's albums or setlists – I'm thinking of the likes of 'You Don't Love Me', 'I'd Rather Be Hit' and 'Never Corner A Rat' in particular – but the effect of this not to suggest he's compromising, but rather the complete opposite, as it serves to demonstrate the consistency of his approach to everything he does, in that any or every song he writes could easily transpose itself from one project to the other.
One feeling that you sometimes get with Warwick's material is that of unfinished business, and that feeling is highlighted by two moments on 'WLFWHAF'. The first is 'Time Don't Seem To Matter', a ballad written for his youngest daughter, Pepper, who also provides backing vocals in what Warwick openly admits is "an absolutely proud father moment", which is actually the original demo version which both the singer and his latest collaborator, former Buckcherry guitarist Keith Nelson, agreed couldn't be replicated by re-recording. The other comes on the vocal to 'Clown Of Misery', which is the original version which Warwick recorded on his 'phone. Hey, if something works, and has that vibe, why mess with it? That simplicity of "leave it as it is" is part of the beauty of rock 'n' roll.
'When Life…' is another exemplar of the deeply personal approach which Warwick takes to his rock 'n' roll. He has never been afraid to lay his heart open via his music. You just have to look at tracks such as 'Time Don't Seem To Matter' and 'I Don't Feel At Home', on which he brings both his past and his present into sharp contrast with one another. But underlying it all is his genuine passion for the one musical genre that unites and enervates people the Überverse over. Warwick says on the intro to the final track, "rock 'n' roll isn't dead, it's just lost its mystery". In a way, he's right. But he's also wrong. Because there never has been any mystery of the power of great rock 'n' roll to provide the singular most life affirming experiences. And, with 'When Life…', Warwick has treated us to yet another of those genuine experiences.
'When Life Was Hard And Fast' is out now. You can get your copy HERE.
Ricky Warwick & The Fighting Hearts are scheduled to play an extensive UK tour in April and May, culminating in a headline appearance at the Call Of The Wild festival. Whether lockdown restrictions in the respective regions will have eased sufficiently for the shows to go ahead is still unknown. However, tickets remain on sale from usual outlets.
www.facebook.com/rickywarwickofficial
All content © Über Rock. Not to be reproduced in part or in whole without the express written permission of Über Rock.