Written by Jonni D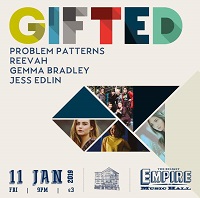 The arrival of the New Year also welcomes the return of The Empire Music Hall's 'Gifted' series; an enterprise in showcasing the best of Northern Ireland's ever burgeoning music scene across all styles and genres.  As such, tonight's line-up is comprised of four acts with the predominant commonality of representing the strength of the female presence in local music. 
Taking to the stage with simply a bass guitar at first, Jess Edlin proceeds to impress with some nonchalantly performed finger-picked virtuosity alongside her characteristically wistful vocals.  In keeping with her customarily endearing stage presence, Jess admits that a recent bout of sickness means she will be eschewing her more "dancey" numbers tonight.  No need to despair, though – her ethereal voice still shines through in her chosen songs, augmented by her knack for a lyrical heel-turn from sweetly sentimental to stinging at any moment.  'Drag Queen' leans on the latter; enjoyably scathing wordplay juxtaposed with the lulling six-string arpeggios.  However, just as effective are the love songs haunted by a fixation of looming mortality.  It's the existing tension in Jess' songs between gentleness and grittiness, both lyrically and instrumentally, that makes her such an engaging artist, with both aspects being represented with aplomb this evening.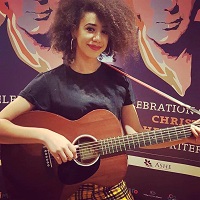 The recent winner of the eighthannual IMRO Christie Hennessy Song Competition, Gemma Bradley continues to make a name for herself as one of the finest emerging songwriters of recent years.  Her expertise in crafting a melody is undeniable, and when combined with her powerhouse delivery of early RnB hooks in a modern pop-meets-folk context, the results are exquisite.  While the syncopation and instantaneous hooks of 'Waves' highlight Gemma's rhythmic precision, 'Hollow Heartbeat' and 'Berserk' – the song that garnered her such acclaim last year – display her considerable range and vulnerability as a vocalist.  Overall, a spell-binding performance from an artist that clearly has much more to offer.
It's been a few years since Aoife Boyle began performing under the moniker Reevah and so she is quite the known quantity around these parts.  Her reputation was bolstered last year with the release of her debut EP, 'Hummingbird'; a collection of eloquently crafted, sublime melodic folk.  Tonight's set shows that she is more than capable of translating the immersive atmosphere of her recorded output in the live setting, and even transcending beyond that.  She arrives on stage to perform the first couple of songs by herself, with the enchanting 'Space' particularly standing out; an understated elegance belying a haunting command, bringing to mind Courtney Marie Andrews at her most melancholic.
She invites her backing band on stage for the remainder of the set, with 'Lights' significantly upping the ambient textures.  The upbeat alt. country of 'Runaway' is a wonderful rendition of one of the EP's highlights, while the sonically hefty 'Daydreamer' benefits greatly from the full band arrangement.  Unsurprisingly, from start to finish the audience is privy to a transfixing performance from an artist who seems incapable of writing music to get lost within.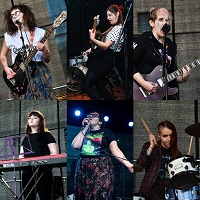 Ordinarily, that Problem Patterns have amassed as large a crowd as they have by the time of their slot would be mightily impressive.  Given that this is their first official gig proper, it's downright staggering.  However, this isn't simply a case of good publicity – their debut single 'Allegedly' was designated the 81st spot on The Thin Air's Top 100 Irish tracks of 2018, clearly turning a few heads with it's unashamed support of women surviving sexual assault.  The fact that half of the proceeds for the song's sales on their Bandcamp acted as further confirmation that Problem Patterns are willing to put their money where their mouths are, in a very real way.
They choose to open their inaugural show with this track, and it becomes quickly apparent that the five-piece are providing a much-needed discourse on an issue that is unfortunately resonant in our culture.  The wiry lead guitar lines and almost mantra-like refrains incite a feverish response from the crowd, with this notably being the first act to have people on their feet and gathered by the stage.
The seemingly tongue in cheek segue of, "This is a song about rugby", initially garners a chuckle or two, until 'Double Standards' reveals itself to be tackling another very localised and topical concern that does not elude the audience.  You see, like the best of punk music, Problem Patterns have something to say, and they go about it with an unwaveringly assured conviction.  However, they never come across as overly didactic, even when addressing subjects as weighty as anti-abortion law during the frenetic buzz-saw riffing of 'Lightbulbs.'  This is a band that isn't afraid to have fun on stage though, particularly evident in the vocal theatrics of 'Mediocre Man' and the emergence of the megaphone for the coda of 'Sell By Date.'
With instruments changing hands regularly throughout the set, and lead vocals being carried out by multiple band members, Problem Patterns put on a consistently dynamic and highly entertaining live show.  Judging by the rapturous response they are afforded, it's pretty clear that this is a band that we need right now, as they bring an evening of stellar music to a close with an overwhelming feeling of community and purpose.
Photographs courtesy of the respective Facebook pages.
All content © Über Rock.  Not to be reproduced in part or in whole without the express written permission of Über Rock.