By David Stewart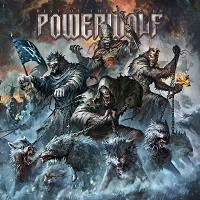 When discussing the best power metal bands of the last decade or so, I don't think anybody compiling such a list could leave out the name of German power metal legends Powerwolf. The band have proven over the years to be a constant force on the power metal scene and have been at the forefront of the genre for many years.
Powerwolf was founded 16 years ago and was born out of German stoner rock band Red Aim after guitarist Benjamin Buss (stage name Matthew Greywolf) decided to hook up with Red Aim bassist David Vogt (stage name Charles Greywolf) to form the band Powerwolf. David Vogt would make the switch to rhythm guitar for the new band. After celebrating a decade and a half together last year and releasing seven critically acclaimed albums, Powerwolf now bring us their first 'Best Of…' album with 'Best Of The Blessed'.
This is not your typical 'Best Of…' album though. It isn't one of those quick cash-ins where they have just lifted all the tracks from various albums and piled them onto one disc with maybe one or two newly recorded tracks. A lot of thought and effort has gone into this release. Yes, the album features many of the Powerwolf classics and best-known songs, but a number of the tracks included have been reworked and re-recorded specifically for this release. 'We Drink Your Blood' and 'Sanctified With Dynamite' are just some of the songs that have been given the new treatment for the album.
'Kiss Of The Cobra King', which was featured on Powerwolf's first ever studio album 'Return In Bloodred' back in 2005 has been re-written and reworked for this album and was also released as a single back in November of last year. This was followed up by another single in March of this year, A new re-working of 'Werewolves In Armenia', which originally appeared on their 2009 album 'Bible Of The Beast'.
Also included on the album, for your listening pleasure are 'Saturday Satan', 'Army Of The Night', 'Sacred And Wild' and a new version of their live anthem 'Resurrection By Erection', to name just some of the treats you have in store on this sixteen track Best Of album.
You can also purchase 'Best Of The Blessed' in a double disc version. The second disc is entitled 'The Live Sacrament' which is a live recording of the bands 2018 'Wolfsnachte' tour and features several songs from 'Best Of The Blessed' in live format.
And if that's not enough for you. The album is also available as a three disc limited edition "Earbook" version that features a third disc called 'The Live Bonus Sacrament', which is four track live EP featuring 'Sanctified By Dynamite', 'Army Of Night', 'Coleus Sanctus' and 'Let There Be Night'.
This is one amazing 'Best Of' album compiled and put together by Powerwolf and fans should definitely pick this up regardless if you already own all of their albums, as the number of reworked and re-recorded songs makes this a valuable addition to your Powerwolf collection.
'Best Of The Blessed' is released on Friday (3 July). You can get your copy, and loads of other Powerwolf goodies, HERE.
www.facebook.com/powerwolfmetal
All content © Über Rock. Not to be reproduced in part or in whole without the express written permission of Über Rock.