By Monk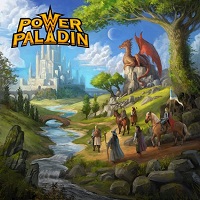 When one thinks of Icelandic metal acts, one's mind is perhaps drawn to bands at the more extreme end of the spectrum, bands inspired by the country's deserted volcanic wastelands, freezing winds and the all-embracing darkness of the long winters, as well as the darker aspects of the island's history and mythos. The happy-go-lucky, smile-inducing shred fests of power metal would probably be the last aspect of the musical canon to come to the forefront of our thoughs… Well, these six paladins of all things gloriously OTT are out to change that perception with this, their debut offering (which is also the first album to be released on the newly constituted Atomic Fire label).
Drawing deep from the well of second wave of Euro metal acts such as Hammerfall, Rhapsody and Stormzone, 'With The Magic…' contains all of the classic ingredients you would expect to find in the recipe for a successful power metal album: colossal choral choruses, huge harmonies, massive melodies, pounding percussion, raucous riffing and searing solos, all delivered at a million miles per hour and with enough cheese to keep Cathedral City in business for the next decade.
Musically, the performances are exemplary, and also everything you would expect from the finest exponents of the power metal genre. The focus, of course, falls on the guitar work of Ingi Þórisson and Bjarni Þór Jóhannsson, and the duo deliver with aplomb and confidence, bouncing in, around and off each other with the quality of true veterans. Behind them, Einar Karl Júlíusson and Kristleifur Þorsteinsson (fuck, I don't think I've used cut and paste so much in a couple of sentences in a long time) hold down the rhythms tighter than a choirboy's buttocks after holy communion, while Bjarni Egill Ögmundsson's keys parp and twiddle to superbly executed atmospheric effect.
The other focus of any power metal act, of course, is the singer, and this department Atli Guðlaugsson proves himself more than capable of delivering the goods, with a confident performance that by and large concentrates on the middle parts of his undoubtedly impressive range – although this does give the feeling that, in places, he is holding back just a tad. But, when he lets rip, the effect is hair-raising: the scream at the end of 'Ride The Distant Storm', for example, is up there with the best of them.
A very impressive, well-crafted debut from an enthusiastic young band who, if the gods smile favourably on them, could very well soon find themselves at the vanguard of a new wave of European power metal heroes.
'With The Magic Of Windfyre Steel' is released on 7 January. You can get your copy HERE.
www.facebook.com/powerpaladinice
All content © Über Rock. Not to be reproduced in part or in whole without the express written permission of Über Rock.