By Jase Walker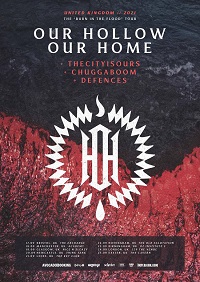 In all the years I've been to Manchester Academy, I've never been to this venue before – the theatre which is on the top floor to the side of Academy 2.
I get in a little late and miss the first song or so from Defences fronted by a mate of mine, Will – these ended up being added to the bill after For I am King unfortunately couldn't make the tour, but make a more than a worthy replacement for the Dutch metallers. The room might be a bit sparse as the first act on, but the sound is chunky and massive, wasting no time bashing out songs like nobody's business. These guys have got a new album dropping in October, keep an eye out for it also, the singles so far have been great!
Despite the initial issues getting into the venue as my tickets didn't actually get delivered, I'm happy that I managed to catch these guys after saying I'd make every effort to do so. If you're at this tour elsewhere in the ÜK by the time this review goes up, you absolutely should. They'll also be doing a five-date headline tour in October.
ChuggaBoom hit the stage and I'm not sure what to make of this: they're all wearing something like 'Phantom of the Opera, sort of masks while jumping between riffs, chuggy riffs to piano backed high pitched vocals that would make 3 Inches Of Blood blush. I think it's fair to say the least this isn't what I expected at all; I was initially thinking they'd be some sort of hardcore outfit, so I was braced a bit for that. These guys are erring somewhere between a parody poking fun at metalcore and then just engaging in absolute face-melting chugs. I'm legitimately caught halfway between laughter and straight-up stank face – this is weird, but definitely my kind of weird.
"We want to thank the supermarket, LIDL, for sponsoring us," the singer states during some between song banter, adding to the feeling that this set really is some bizarre mix of comedy and bangers. No better way to top the set off with a metalcore cover of 'Bohemian Rhapsody' right? Bizarre.
Onto the penultimate act, thecityisours, a band I've only come across quite recently, but have been kicking myself over not properly exploring sooner. What an intro though, the size of the balls on these guys and how hard they're going from the outset is the kind of stuff that some bigger bands could really learn from. Massive choruses to sing along to, verses so crushing that you just want to crack skulls in pits, my bread and butter. I've had to move away from the center of the crowd because the pit's going berserk and I'm quite precious about not having my pint launched across the room.
Seriously, I'm really impressed with these guys, the whole sets sounded consistently great, the audience interaction was fantastic, each song had a great hook and mixed pop-style writing with metalcore's trademark chuggy sound. These guys are definitely one to keep an eye on as they climb up the venue ladder.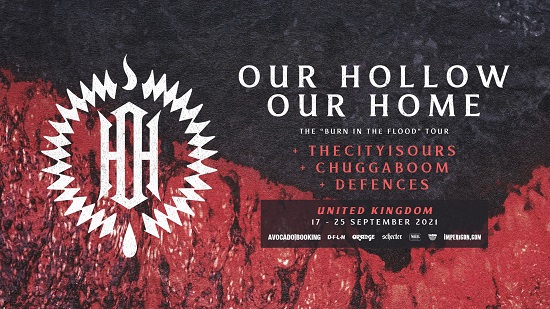 By the time headliners Our Hollow Our Home take the stage, the venue is a legitimate sweat box. You can see why these guys are heading the bill, they're sounding massive despite missing their bass player. Every song is dripping with hooks and catchy choruses, making good use of their latest albums bangers.
The crowd responds with every ebb and flow; they know the words, and in between thrashing their heads around, screaming the vocals back as a backing chorus to every single song, British metalcore at its finest. We've even got people on shoulders going bloody bonkers in the pit, nothing's stopping the crowd having at it here, completely in awe at the energy of this show.
OHOH's main singer's uncleans are consistently great. It's somewhat common to see singers that aren't quite able to emulate their recordings in a live setting, but this is absolutely not the case here. These guys have a well-honed craft and it's clear right from the outset, all the way to the closure of their set, they aim for perfection, and they come pretty damn close to it.
If you haven't already, give their latest album a listen, it's a fine example of British metalcore and you won't regret getting your ears around it – maybe even see them live, get on someone's shoulders and shout the words back?
The tour continues at The Old Salutation in Nottingham tonight (Wednesday 22 September), the O2 Institute 3 in Birmingham tomorrow, 229 The Venue in London on Friday and finishes at The Cavern in Exeter on Saturday (25 September).
All content © Über Rock. Not to be reproduced in part or in whole without the express written permission of Über Rock.