By John Bedard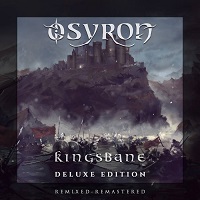 I have gone on a rant about how important first impressions are in a previous review so I will try and keep it short on this one and simply say that they can shape your perception of the whole experience. I know this is a remastered re-release of 'Kingsbane' but it is my first time hearing it and therefore my first impression. What a damn good first impression it is and, as the album goes in, it just gets better!
I absolutely love the vocal style! There is a wonderful blend of old-school power metal vocals and as well as a modern progressive tone. I definitely hear some similarities to Kamelot but with the darker edges shaved off. Honestly, I found the vocal style here more fun and that is saying a lot from me because I love Kamelot. There is just so much power to every note and they really know when to ratchet it up and when to dial it back giving a lot of evolution to the music. It never felt repetitive or lost my interest.
Complementing the vocals is equally as epic music. There is so much variety in every track. The whole experience evolves wonderfully. There are times when the whole experience gets quite heavy and others where it slows down to a soft almost fantasy feeling. Just when you think it can't get any better they throw in an acoustic track and two re-recorded tracks that feel equally as epic. The mix is perfect, not one component ever overpowers the other. The whole experience feels extremely well thought out. My only complaint would be that occasionally the transitions from one track to the next can feel a little abrupt but that is such a minor issue that it is barely worth mentioning.
If it is not clear already, I loved every second of this album. It is a fantastic experience. From the very first notes of the album to the last, your attention is completely captured. I even have had a hard time writing this review while listening to the album because I kept getting lost in the music. It just sucks you in. This is, without a doubt, a must-have album! You don't want to miss out on this one. It is an experience that will become a staple of your collection. I know it will be a standout in mine. I loved every second and I know you will too.
'Kingsbane: Deluxe Edition' is released on 14 May. You can get your copy HERE.
All content © Über Rock. Not to be reproduced in part or in whole without the express written permission of Über Rock.