By Jonny Bakes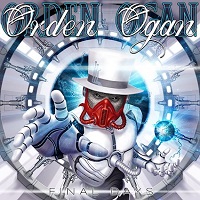 It's an exciting day for me as I've been following this band for years! In fact, I can clearly remember the first time that I came across Orden Ogan… It was in this midst of one of those hangovers from hell, that were all too common at uni, and we were following our usual tradition of flicking through songs on YouTube and trying to muster up the courage to be human again. That's when we found the video for 'We Are Pirates' which has been stuck in my regular playlist ever since, so there was absolutely no hesitation when I was given the chance to get an advanced listen of the new album 'Final Days'.
Since that first introduction to Orden Ogan, the band has found increasing success with each new album release. In particular, their most recent album 'Gunmen' received very positive reviews and saw their popularity escalate with their dark western-themed album that had strong Dark Tower vibes to it. 'Gunmen' was the latest of a series of thematic albums that have explored so many different subjects (like the Wild West, burning cities and apocalyptic ice worlds) that the only thing left is to boldly go where no man has gone before… That's right, 'Final Days' is set to be one big science fantasy epic!
'Final Days' has exactly the sound I've come to expect from Orden Ogan. It's bombastic power metal with huge production that buries itself deep into your mind with the incredibly catchy melodies and choruses. Orden Ogan are clearly still growing though as they've somehow managed to cram in a few new elements that have taken their sound up to the next level with orchestral sounds and hints of pop making an appearance on 'Final Days'. But this all blends together to produce what is possibly the strongest Orden Ogan album to date, which is no small statement! There's even some surprise guest appearances to top things off with Ylva Eriksson of Brothers of Metal joining for the ballad 'Alone in the Dark' and legendary guitarist Gus G providing some licks on 'Interstellar'.
There's certainly no fucking around though, the album turns it up to 11 from the very start with 'Heart of the Android' which you're probably already familiar with, having been a leading single released last year. It starts out sounding a bit like the music for a boss fight and results in an incredibly catchy chorus that you'll be humming for a long time afterwards (hell, I often wake up with it stuck in my head at the moment!). 'Heart of the Android' does a perfect job of introducing the sci-fi concept that 'Final Days' is built around leads into some of the deeper questions in the album as it continues to pursue the ethics of technology. There's a very good reason that this track is both a leading single and the first track of the album as it sinks in like a barbed hook and leaves you defenceless to the rest of the album.
'Inferno' is another fantastic track on the album as it has a slight twist that many of you probably wouldn't expect… It could easily pass as a slightly heavy pop song! Now don't let this put you off because it actually works really well and is another song that will stick with you long after you finish listening to the album. There's some sneaky little synth sounds in there that adds to the sci-fi aesthetic of the album and pairs really well with the core Orden Ogan sound. I think that the effectiveness of this track lies in the simple and repeated chorus with a tempo that just hits the spot in a way that's difficult to describe.
I could continue on and talk through every track on the album but you're probably too busy to have time to read through that, so I'll summarise instead.  'Final Days' is simply a piece of sheer brilliance from Orden Ogan and while 'Final Days' is the theme of the album I absolutely expect that it's from Orden Ogan's final days! This album is a sign that the band are still on their upward trajectory to face off against some of the biggest players in the power metal genre. They show that they have mastered the art of the concept album with another great album that builds on the lessons learnt from 'Gunmen' to make 'Final Days' a fine spectacle of sci-fi goodness. This will appeal to fans of the likes of Sabaton, Powerwolf, Rhapsody and many more, it's passionate and bears all those strong hallmarks of solid modern power metal.
Put simply, I fucking love this album!
'Final Days' is released on 12 March. You can get your copy HERE.
All content © Über Rock. Not to be reproduced in part or in whole without the express written permission of Über Rock.