By DJ Monk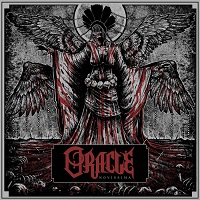 Oracle are very much one of the new bloods of Northern Ireland heavy metal bands who have been carving an increasingly impressive niche for themselves both in this particular corner of the Überverse and further afield in recent years. This was a point which the Belfast quintet emphasized last year when they stormed to a surprise but nonetheless well-deserved victory in the annual Bloodstock Metal 2 The Masses contest to earn themselves a coveted spot on said festival's, erm, 'New Blood' stage. Now, a little over 14 months later here we find ourselves, standing on the eve of the release of their debut full-length album…
And a stonking slice of groove metal it is too! I'm not just saying this because I know the guys in the band (although not on an intimate level, you understand), but 'Novissima' pounds and pummels likes a heavyweight champion, while also snapping, snarling and twisting like a cornered python. To continue the boxing analogy, for a debut album by a young band – albeit one who have crammed a lot of experience into their four short years together – it most definitely, and defiantly, punches above its weight.
From the opening blastbeat of 'Hypocrisy', Oracle take no prisoners and give no quarter in this unrelenting aural assault. But this is not brutality for the sake of it – a trap into which too many of their counterparts fall. There is plenty of use of atmospherics, of light and shade, of harmony and melody – and, most importantly, a valuable variety in the sounds offered, not least in terms of Jason Kerr's vocals, which veer from the clean, almost metalcore vibe of the aforesaid opener to the death metal grunt and growl of follow-up 'Hollow' with alacrity and ease. But, having seen Oracle numerous times over the past few years, and watched them develop, grow and mature into one of the most consistently impressive live bands in this corner of the Überverse, I shouldn't really have expected much more, should I?
The title track is another prime example of the above points, switching from clean to dirty vocals and back again quicker than you can flick a light switch, while the guitars switch from staccato riffs to broiling melodies with the fluidity the blood dripping from your ears when you turn the volume up to maximum on this beast of a release. Then, just as you think you've got your head around what is going on, they go and change tack again, with the comparatively genteel intro to 'Limos', before the track, of course, evolves into a truly epic slice of death-infused groove deliciousness.
It has been an excellent year for the Northern Ireland metal scene, and especially at the heavier end of the spectrum. Oracle may well have just put the cherry on the top of the cake with 'Novissima'. In fact, scrap that: they've just smashed that cake into your face!
All content © Über Rock. Not to be reproduced in part or in whole without the express written permission of Über Rock.