By Jim Rowland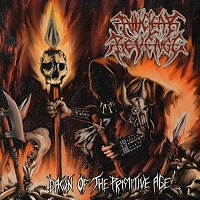 Whilst many of the finest exponents of brutal blackened thrash hail from Scandinavia and Northern Europe, it's by no means exclusive to that area, as proved by Spain's Nuclear Revenge who are about to unleash a beast of an album in the shape of 'Dawn of the Primitive Age', the band's second full length effort.
One quick look at this album will give you a damn good idea what Nuclear Revenge are about before you even listen to it. The band are adorned in black leather, bullet belts and studded wristbands, reminiscent of early/mid '80s German extreme metal pioneers like Sodom, Kreator and Destruction, albeit with added corpse paint, and the song titles include 'Agonic Tormentor', 'Proclaimed Among The Wicked' and 'Descending Wings Of Perversion'. Add to that the names of the four band members – Cryptic Aggressor, Pestilence Breeder, Skullreaper and Speedhammer (obviously he's the drummer) – and you have a young band who clearly know and love those early years of extreme thrash metal before it all became a bit over produced and formulaic. The corpse paint of course indicates the injection of a black metal influence here too, particularly in Cryptic Aggressor's barking vocal style.
The likes of 'Agonic Tormentor', 'Proclaimed Among the Wicked' and 'Dawn of the Primitive Age' are pure breakneck speed blackened thrash, with 'March Of The Undead', 'Eyes OF Revelations' and the excellent album closer '…from The Crypt' having a stronger black metal influence, with tempo shifts, tremolo picking guitar runs and progressive leanings. Two of the strongest tracks for me are 'Summon The Nameless Ones' and 'Dust' which have a more pure early thrash approach and boast some damn catchy guitar riffs and hooks within the intense thrash power attack of both tracks.
'Dawn Of the Primitive Age' captures the raw, relentless brutal energy of the early days of thrash metal brilliantly, and fuses it with a black metal influence to make this a top notch slice of blackened thrash metal that easily holds its own in comparison to Nuclear Revenge's Nordic contemporaries. The musicianship is great, the sound huge and powerful and don't you just love those bands names?
Easily one of the best metal albums I've heard in quite some time.
'Dawn Of the Primitive Age' is released tomorrow (Friday 30 July). You can get your copy HERE.
www.facebook.com/NuclearRevenge
All content © Über Rock. Not to be reproduced in part or in whole without the express written permission of Über Rock.