Words by DJ Monk. Photos by The Dark Queen.
Tonight's venue for our latest adventures in rock 'n' roll wonderland is something of a curio. It's a converted three storey Victorian townhouse on one of the city's main shopping streets, with a pizza parlour on the ground floor and a set of rather forbidding fire doors giving access to a trendy cocktail bar above. The infrequent live shows staged here are held on the topmost level, the positively miniscule stage squeezed between the frankly oversized bar and the DJ booth/sound desk: with the stage also facing the door, and the large dancefloor off to one side, it's not exactly conducive to creating an atmosphere – but it is guaranteed to be hot and sweaty. It also was not the first choice for this evening's shenanigans, as there had been at least two venue changes in the week leading up to New Valley Wolves' return north of the Irish border for their first headline appearance in sunny Belfast (and, yes folks, the sun was indeed shining, ensuring that the rooftop smoking area is a strong attraction in its own right).
Three of the bands on the bill are new names to your ÜR crüe: so new, in fact, that the middle two acts are actually making their live debuts (one at just a week's notice), so if nothing else an evening of discovery and exploration of new sounds was guaranteed.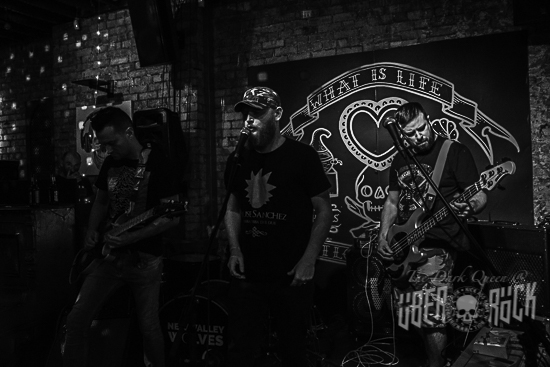 Openers A 1000 Days Gone are the most experienced of the undercard, as they already have a handful of gigs under their belts, and it shows. Kicking off with the catchier-than-Ebola 'I Feel Fore', they deliver indie-infused rock with a nice line in harmonies, the feel of early U2 mixed with The Icicle Works and infused with generous dollops of Soundgarden, especially in the big rhythms and sugar sweet melodies, and all in a way which is very tight and precise. The fact this was only something like their sixth gig bodes well for the future – although we could have done without the needless cover of Joy Division's 'Shadowplay', especially when they clearly have so much original material of their own; the closing tribute to Chris Cornell was a good touch though, evoking the Soundgarden spirit in a way hinted at earlier in the set.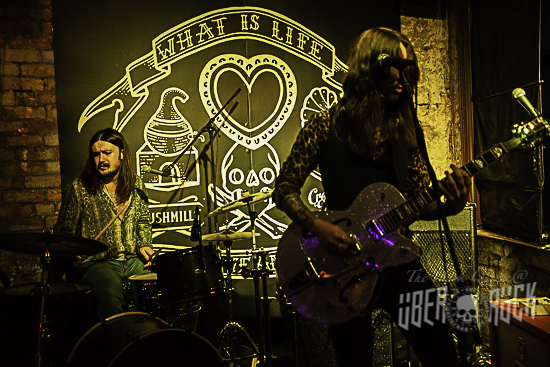 Next up, Wildhound were very much the wild card (sic) on the bill, having been drafted in at just a week's notice after the original special guests, Petty Youth, had to pull out – a fact immediately alluded to by guitarist Eoghan Johnson: "this is our first gig so don't expect it to be any more than shite," he warns us. What it is, however, is heavy-ass thumping blooze with a heavy bottom end and enough sludge to clog up the nearby weir for months: yes, it's very loose, and there are a few cock-ups, but the duo exude plenty of energy and enthusiasm. Johnson's distorted guitar is counterpointed by Martyn Garbett's thick but snappy drumming, and their dual vocal approach works very well, with plenty of power in Johnson's baritone in particular. A sterling debut which, again, bodes well for the future of this new project.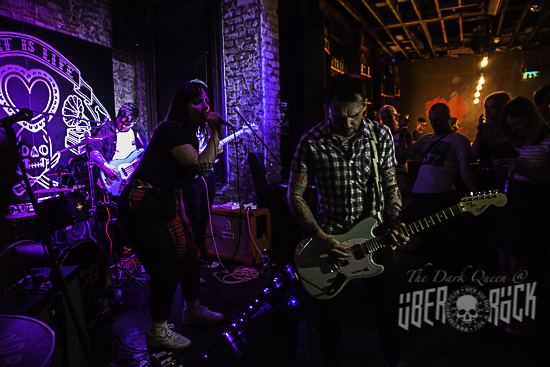 Next up, another debut act, although again another one with plenty of experience in their ranks, as Paper Tigers guitarist Michael Smyth is also the frontman in acclaimed local noiseniks THVS (who, coincidentally, release their new single, 'Palisades', next month). The stage is so small that Smyth actually has to play on the floor, where he throws himself around with gay abandon, obviously relishing not being tied to a microphone for most of the set.
The quintet don't fuck around as they deliver a short set of high energy, adrenalin-pumped, punk-fuelled power pop; elements of garage rock fury mix with outright punk aggression, and fuck-you attitude, all wrapped up in one gloriously homogenous, tight package. The real star of the show is Megan Sylvan who combines all of the above elements with a huge voice that hardly needs a microphone to make an impact. Another cracking start for a new band who no doubt will establish themselves very quickly as fixtures of the Irish live scene.
Paper Tigers play Fibber Magee's in Dublin (with Amongst The Wolves and Strangers With Guns) on Friday (2 August). Admission is free.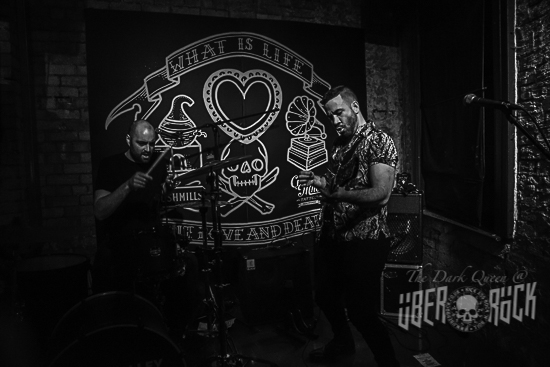 "Ladies and gentlemen, we are New Valley Wolves and we're to give you a rock 'n' roll show; we hope you like it," declares Jonny Lucey as the Dublin duo prepare to launch into their set. We had seen the two lads before, when they supported Black Stone Cherry a little more than a year ago: they, they had seemed lost on the massive stage (on which they found themselves on opposite sides), so we had been keen to see  how they would deliver in a much more intimate setting… well, if their aim was to deliver unto us a rock 'n' roll show, then that's exactly what they did – and a very hot and sweaty one to boot.
Ironically, the crowd has dissipated somewhat (Paper Tigers had brought quite an entourage with them, most of whom disappointingly didn't seem to hang around for the main act), with numbers ebbing and flowing throughout the remainder of the night, but that doesn't stop this powerhouse duo delivering their big, crunching heavy blues-rock grooves with aplomb and passion. Practically playing out of each other's pockets, they're tighter than a Ballymena man's wallet (the fluidity with which Baz Joyce replaces broken/dropped sticks would serve as a lesson to many drummers), and it only takes them three songs to start the call and returns with the handful of diehard fans who have remained behind. And it's not much longer before Lucey has stripped to the waist.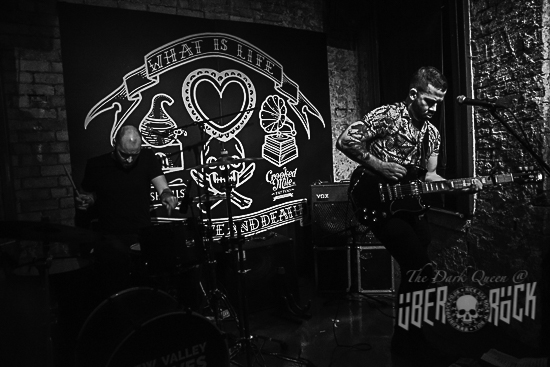 With latent energy combined with an almost psychotic telepathic interaction between the two musicians, the result is an energetic, enervating and extremely entertaining set from two very talented artists who know how to deliver quality rock 'n' roll, be it to 20 people in a tiny bar or the 1000+ souls who were present the last time we saw them.  I'll tell you one thing, though, this is not the last time we'll be answering the call of this pair of Dublin wolves…
New Valley Wolves play Fibber Magee's in Dublin on Saturday (3 August). Admission is free.
PHOTO CREDIT: All photos © The Dark Queen/ Über You can view our full gallery of photographs HERE.
All content © Über Rock. Not to be reproduced in part or in whole without the express written permission of Über Rock.