By DJ Monk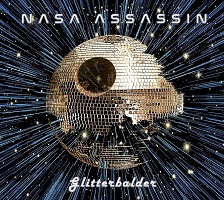 If rock 'n' roll stuck to the same format and framework, then it would quickly become very boring, and we'd all be listening to Nickel-freakin'-back all the feckin' time. No, it's all about living on the edge – be it the edge of the universe or that of a three-legged stool while you try to extricate yourself from the ennui of 'normal' life… rock 'n' roll is supposed to be abnormal, and that's a concept that NASA Assassin fully embrace on this, their second album. The band, known for their, quite frankly, in-fucking-sane live shows, describe their music as pronk.  WTF is that I hear you ask… Well, it is an eclectic mix of space rock, punk, prog and classic metal (and even grunge!) – all washed down with healthy doses of gin and Buckfast (although they, like we, probably wouldn't recommend indulging in both of these last two ingredients at the same time!).
It's an album that has been more than five long years in the making, but, despite the delay, it is a collection of songs that pick up almost exactly where their predecessor, 'Area 69', left off back in those dark days of 2014. Stylistically, it is once again impossible to pin down, as it bounces around more than a child's football in the vortex of a tornado. It twists and turns, defying any expectations of what it should sound like and dispelling preconceptions faster than you can find your way to 54.7137°N 5.8063°W – the map reference for Carrickfergus Castle, the Norman fortress depicted on the cover of their aforementioned debut opus, and also the title of this offering's intro section. This is not the only direct connection to the first album: the title of penultimate track, 'S.N.B II: Iron Wings', references the earlier 'Sexy Nervous Breakdown', while the psychedelic closer 'Salt Mines' is another geographic clue to the band's origins, referring as it does to the massive salt mine on the outskirts of the town of Carrickfergus.
Some of the songs will already be familiar to long-term fans, as the likes of '5-Way Split', 'Goodbye Blazer, Hello Razor' and 'Monterey (Police Lethal)' have been favourites in their live set for a number of years. Of these, 'Goodbye Blazer…' would perhaps make the strongest contender for a single, with its massive gang vocals and singalong chorus, highlighting how, in among all the insanity, these Assassins know how to craft a great song or four, while at the same time retaining their tongues very firmly in their collective and individual cheeks, as displayed on the likes of 'I Like 'Em Stiff' and 'The Cover Of The Sunday Life' (which also features a guest appearance from Snore… sorry, Snow Patrol's Nathan Connolly).
Of course, none of this would work if the band weren't tighter than a choirboys buttocks prior to Sunday mass, and the quintet is indeed a very tight unit in every department, from the way in which the twin guitars bounce off and around each other to the concrete solid rhythms, all overtopped by The Beholder's lateral vocals, which have enough range to match the variations in style which pervade the ten tracks. And while there is, as I mentioned above, a lot of stylistic variety, it all merges homogenously and makes a weird sense of completeness. Which leaves only one thing to do, and that's hit that "repeat" button and get immersed in the aural experience all over again.
'Glitterbalder' is released on 30 November. You can get your copy, and one for your aunt Mabel, HERE.
NASA Assassin play Limelight 2, Belfast, with support from Trucker Diablo and St Hellfire, the same day.
All content © Über Rock. Not to be reproduced in part or in whole without the express written permission of Über Rock.