Written by DJ Monk. Photographs by The Dark Queen.
Former White Lion/Freak Of Nature frontman Mike Tramp has been a regular visitor to this particular corner of the Überverse for nigh on half a dozen or more years, ensuring that his annual tours always find their way to the dark hills of County Antrim.  However, he had somehow managed to miss us out last time around, but was promising to more than make up for that lapse in planning by presenting us with an epic set of songs, liberally sprinkled with stories from his four-plus decades in this hoary old music business.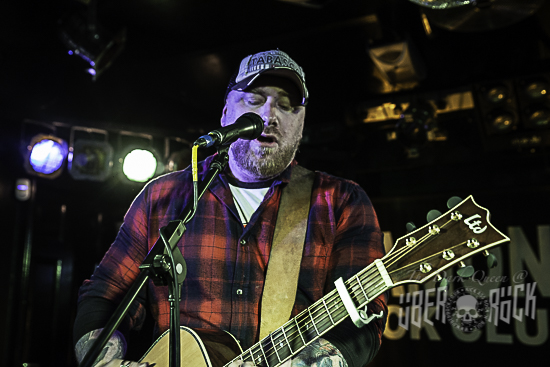 The task of warming up the surprisingly sparse crowd fell to local hero Tom Harte, who will be best known to regular Über readers as the frontman with hard rockers Trucker Diablo but recently has embarked on a sidebar solo career (as explained in our interview conducted just prior to this very show). His set draws on his own his debut EP, 'Life, Love And Everything In Between', a couple of newly written songs, including the ironically titled 'I'm Never Drinking Again' (aye, right on big lad) and the Americana-tinged 'All Of My Sins', and, of course, a sprinkling of stripped back Trucker toons, including recent single 'Other Side Of The City'. He finishes off with his now traditional closer of the theme from the cult US sitcom 'Cheers': but, did I hear him declare "I heard Beyoncé is a boy" in the middle of it? Whatever, it's a well-received set from a consummate and passionate songwriter.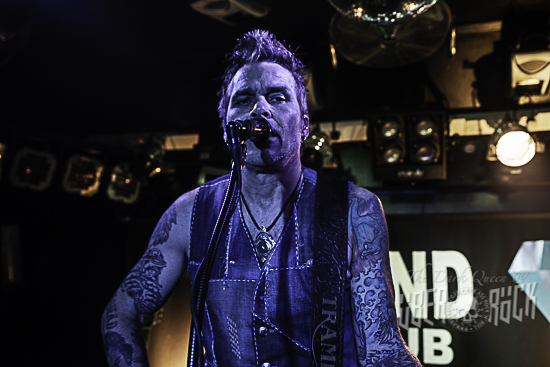 As the dying strains of Tyketto's 'Standing Alone' fade from the club's PA, Mike Tramp wanders onto the darkened stage, tunes up and tells us "I've always wanted Danny Vaughn to support me!". Kicking off, appropriately, with 'Trust In Yourself', the opening track from the last of his triptych of solo albums, 'Museum', over the next two hours and 40 minutes Tramp draws deep on the well of his career, covering both band and solo recordings (although, yet again, carefully avoiding his Eurovision moment – maybe someday, eh Mike?). Afterwards, there are some complaints online that he didn't include more material from his just released 'Stray From The Flock' opus, but when you've more than 30 years' worth of songs in your repertoire, it's going to be hard to please everyone.
After apologizing for omitting the Diamond from his last tour schedule he reveals that he is going to jump in and out of his planned setlist, as "working on autopilot can be dangerous". The songs keep coming, with 'Little Fighter' 'Give It All You Got' and 'Hungry' following one after another; after discussing his discovery of vegan Easter eggs, he uses the latter for his first reference to his time in White Lion: "there's a couple of things I didn't think about when I planned the whole '80s invasion" he jokes, as he talks about his ten-year old son questioning him about the lyrics on videos he watched on YouTube…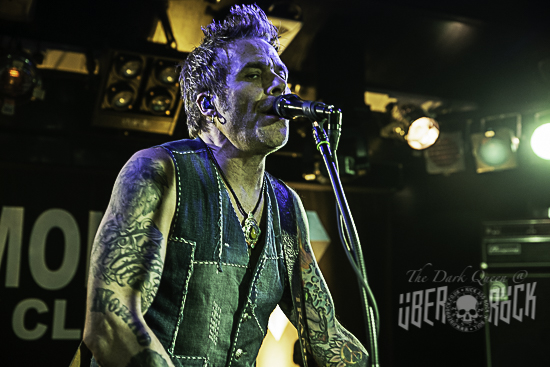 In between the diverse range of songs – solo efforts such as 'Bow And Obey' and 'Better Off' nestle effortlessly between White Lion's 'Tell Me' and Freak Of Nature's 'Candle' (which is simply beautiful when presented acoustically) and 'Need' – the stories continue to flow. "They talk about Brexit a lot over there," he reveals about his most recent tour of the States: "I ask people here about it and I'm still none the wiser!" (well, Mike, neither are we, if that's any consolation). All of the stories are light-hearted: he talks about his three previous marriages –"the first wife got the house, the second my two sports cars and the third took all the cash I had left" – and playing a house party the previous evening: "there were 20 people there, 19 of whom didn't know who I am!".
Of course, the songs keep coming: 'Cobblestone Street', a pleasant cover of Lizzy's 'Southbound', 'Homesick' and 'Freak Of Nature' all lead to the first big singalong of the night, in 'Broken Heart', which he reveals is the first song he ever wrote after hooking up with Vito Bratta in 1983: "it's so high I've been trying to find ways around singing it… this might be the last version".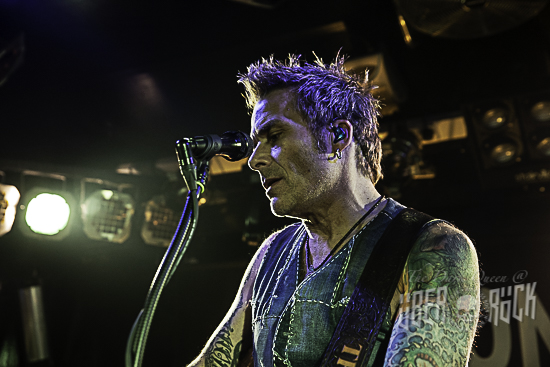 Of course, despite any extraneous conversations about his choice of setlist, there are certain songs he cannot NOT play; briefly dipping into his new album for a stripped back version of lead single 'Dead End Ride', he takes us to meet the 'Lady Of The Valley' and then a trip down the 'Road To Valhalla', where we discover that there is 'More To Life Than This' before we, well, just have to 'Wait'.
As his conversations get more debauched, covering flapjacks and the menopause, there are a couple more covers – 'Rockin' In The Free World', the cover de rigeur at the DRC, melds into 'All Along The Watchtower' while there's also a voyage down 'The River' – before the rousing finale of 'When The Children Cry' sees Tramp smash through Danny Vaughn's previous record of two-and-a-half hours for a set on this stage (now, there's a challenge for DV when he returns in August?!). Another highly entertaining tight, with good company and great craic, at this little gem of a venue… here's to the next time \m/
'Stray From The Flock' is out now.
PHOTO CREDIT: All photos © The Dark Queen/Über Rock. You can view our full gallery of photographs HERE.
All content © Über Rock. Not to be reproduced in part or in whole without the express written permission of Über Rock.