Written by DJ Monk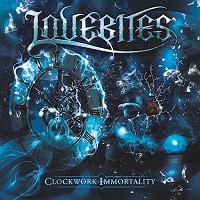 They say that imitation is the sincerest form of flattery. Well, if that is indeed the case then the western metal scene should be extremely flattered by that in Japan, where bands have been imitating, even ripping off, their European and American counterparts for several decades now. Of all the metal bands to have emerged from the land of the rising sun, only really Loudness have  been able to stand on their own two feet and lay down an identifiable marker for the Asian scene to be taken seriously in its own right.
Of course, the focus changed a few years back, when the charmingly inane Babymetal exploded onto the global stage and immediately grabbed it by the balls and shook it vigorously. No matter your opinion of the "band", you could hardly ignore them: they were on virtually every festival stage and on the cover of even the most discerning metal magazines. They did indeed offer something new and, dare I say it, refreshing in this cynical old Überverse. Of course, it was inevitable that others would seek to follow in their footsteps – which brings us, quite neatly, to Lovebites, the latest J-metal "phenomenon".
As if creating a band of five PYTs is not enough of a marketing gimmick, the brains behind Lovebites take things one illogical step further and dress them all in that most un-metal of colours – white. They then very obviously handed them the entire Dragonforce back catalogue and instructed them to "learn that". Because, as I said at the outset, if imitation is indeed the sincerest form of flattery, then Herman, Sam et al must  be blushing with embarrassment – or furious that these Japanese metal maidens were able to sneak into the studio and purloin the master tapes to their next album, as, apart from the female vocals, 'Clockwork Immortality' could very well be that.
Now, that's not to say that is a bad album: in fact, nothing could be further from the truth.  In fact, it's a decent one. A very decent one indeed, packed full of earworm hooks and the sort of guitar lines that had me fiercely fighting the urge to get up from my desk and whirlwind around the office in the best air guitar hero tradition.
The only way in which both Lovebites and 'Clockwork…' defy the standards of the power metal genre is by keeping the ballad, the suitably entitled 'Epilogue' (also the longest song on the album, at a little more than seven minutes) to the very end rather than interjecting it, say, at the midpoint. But, to be honest, this ploy works, as it is by far the strongest and most memorable track, featuring a stunning lead vocal from Asami. If it's a case of keeping the best 'til last, then Lovebites have it nailed: it's as if the other nine tracks have been appetizer's preparing you for this delicious dessert.
'Clockwork Immortality' is released on Friday (18 January). You can get your copy HERE.
www.facebook.com/LovebitesTheBand/
All content © Über Rock.  Not to be reproduced in part or in whole without the express written permission of Über Rock.