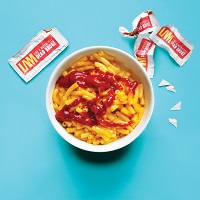 Finding a band on their sophomore release is not the worst of places to get on board. You have a debut to compare it to, to see any evolution of style or songwriting and that bit more time to see if the band have picked up some support slots and – importantly – with who.
The first impression I get is of something a lot more up-tempo in the post-punk range, rather than the flat out punk-tacular I was expecting, given their tours with Against Me! and METZ among others – with maybe a dab of art-rock mixed in. This isn't intended to sound like a negative as there is most definitely a punk spirit to it all, with them tackling such subjects as mental health, with the combination working extremely well. The fact that vocals are shared throughout the band is an interesting proposition for this kind of musical approach and one that actually works really well, as we get a mixture of vocal harmonies and something a bit more gruff and angry, with the overall mix enhancing the sound of each track without distracting either each other or the listener from the messages they are trying to get out.
While we have the slightly different approaches of 'Punk Two' and 'Swept Out', there is a cohesiveness throughout this album that shows they have found a sound that is comfortable to them, allowing them to properly express a mixture of anger, contempt and frustration at what they have personally had to endure in the time since their debut album, as well as things affecting the world at large – probably shown best at the end of 'Punk Two' as the chants of 'dead broke' go from softer melody into something a bit more feisty and angry by the end of the track. 'Swept Out' looks more towards the mental health side, declaring, 'It doesn't matter to me, should I happen to fall… when you feel everything I feel nothing at all' showing the struggles that affect so many people – especially during the ongoing pandemic, where many are so isolated at home. 'Swept Out' actually reminds me a lot of 'In Shreds' by The Chameleons, both in the tone and the approach to a similar subject, with the bassline, in particular, being why I find similarities with the British post-punk scene as much as the rest of their influence.
'Tanner' even incorporates some more prog-influenced drumming with a couple of tempo changes and drum timings working really well alongside the rest of their sound, providing some difference between songs without losing any of their core, with the piano outro both a surprise and of further evidence of the band's ability to add in other things without any detriment to either a piece or the entirety of the puzzle. The fact that only 3 of the tracks are over three minutes points more to their punk orientation, despite my nod towards the post-punk feel I personally pick up from the bassline and guitar approach, while I pick up on what I think are influences from maybe five distinct genres, from art-rock, hardcore and noise to the aforementioned ones. It's actually hard to pick out some personal favourites from the release as I enjoy the entirety of the album, with no weak links or filler shoehorned in to make the numbers up.
This is overall a very good release that bodes extremely well for the talented quartet. A soundscape that veers between art-rock, hardcore, noise, post-punk and punk with aplomb means there should be plenty of interest from a variety of different sectors of the rock market and shows they have something very tangible to offer as a whole, with their relatable song themes and addictive, adrenaline-fuelled music. Anyone with an interest in any of the aforementioned genres should, at a minimum, give this a couple of spins – though I found this personally to be a very immediate listen. Get it in yer lugholes!
'Dead Broke' is released today (Friday 30 October). You can get your copy, and loads of other LAM goodies, HERE.
www.facebook.com/likeamotorcycle
All content © Über Rock. Not to be reproduced in part or in whole without the express written permission of Über Rock.