By DJ Monk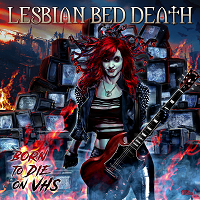 It may be some five months until Halloween, but given the somewhat neo-apocalyptic/dysptopian circumstances in which the Überverse finds itself as the moment, is there really any better time to release an album ripped straight from the soundtracks of some of our favourite Eighties horror movies? Well, that's exactly what Midlands gothic punk 'n' rollers Lesbian Bed Death have done with their timely re-issue of last year's homage to the genre…
'Born To Die On VHS' was originally released last September, and featured LBD offering their interpretations of nine songs featured in classic (mostly B-) movies such as 'A Nightmare On Elm Street 3', 'Fright Night', 'Pet Sematary' and, almost inevitably, 'The Lost Boys', alongside three thematically-linked original songs and an additional cover, in the form of Pat Benatar's 'Heartbreaker', chosen by fans as part of the band's IndieGoGo campaign around the album's original release. Now remixed and remastered by producer Steve Lethal, and being given away for free to anyone who bought the original CD (as well as streamed for free on YouTube), 'Born To Die…' somehow by-passed ÜRHQ first time around, so we cannot pass comment on any improvements which the update may have brought but rather judge this version on a standalone basis…
The songs selection is an interesting set of picks, from the hard rock crunch of likes of Dokken ('Dream Warriors'), W.A.S.P ('Scream Until You Like It') and Alice Cooper ('He's Back (The Man Behind The Mask)') through the AOR smoothness of Autograph (You Can't Hide From The Beast Inside') and Lou Gramm ('Lost In The Shadows') to the punk rock attitude of The Ramones (the title track to 'Pet Sematary') and Motörhead ('Hellraiser').
By and large, the choices are performed extremely faithfully, not really offering any re-interpretations of the original material, but rather paying due respect to a series of soundtracks which no doubt formed those of many of our youths, with the main difference being, of course, the transition to female vocals. There are occasions where this works – most notably on the likes of 'Scream Until You Like It', on which Luci4 (who returned to the LBD fold for this album) produces more passion in three-and-a-half minutes than Blackie Lawless has been able to manage for a couple of decades now. But, equally, there are those where it falls flat on its face: the versions of 'Pet Sematary', 'Hellraiser' and 'Partytime', which collectively make up the middle section of the album, are just too clean and clinical, although presented in a way which matches the overall hard rock feel of the album as a whole, which has an Eighties feel which pays more than a passing nod to the era which produced the original material.
Talking of original material, the three LBD-penned songs – opener 'Fury', the staccato-punk 'Flesh' and the frantic title track – are great songs in their own right, exactly what we have come to expect from them and enough to quite possibly have made up a quarantine-friendly EP in their own right, if they had decided to go down that route…
'Born To Die On VHS' is an interesting curio. In many ways, it is a reminder of the cheesiness of some of the soundtracks that accompanied the movies of that era. In others, it is a worthwhile unearthing of some long-lost gems. Which only leaves one question unanswered: where's that old box of 'Night Of The Undead' tapes?
'Born To Die On VHS (2020 Remix/Remaster)' is out now. You can get your copy, and loads of other Lesbian Bed Death goodies, HERE.
All content © Über Rock. Not to be reproduced in part or in whole without the express written permission of Über