By Jonny Bakes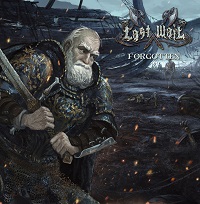 Russia produces lots of things that are exported across the world, like oil, steel and let's not forget vodka. But little do people know that Russia has also been churning out a wave of Folk Metal bands… Arkona and Troll Bends Fir are some of the more recognisable names from the Russian Folk Metal scene, but today it's the turn of Last Wail to show their wares.
'Forgotten' has been teased by the band since the track list was announced in mid-2015 and from this point there has been a steady drip-feed of information about the album up until its eventual release on 1 April of this year. The release date nearly tricked me into thinking this may be yet another tease, but thankfully this time I have finally been able to get my hands on this anticipated release. 'Forgotten' is the follow up to 2013's 'Memories' and comes with a change in vocalist after the departure of Alina Eliseeva. Now Ilya Simonov steps up for vocal duties marking a shift from female to male vocalist, however you will be glad to hear that they have maintained a similar vocal style to their previous release.
Greeted by a distinctly medieval feel at the opening of the first track 'Valeria Storm' the song then kicks into a folk-tinged melodic death metal riff accompanied by strong guttural growls. Ensiferum and early Equilibrium are clearly strong influences for this band!
The tone remains on the heavier side through 'Runes' before heading onto 'Woodcutter' where we start to see more of those folk elements coming through with call and repeat passages using a whistle, violin and guitars adding a new depth. Not forgetting my personal favourite, the off-beat hi-hat. The folk elements are getting stronger as we head through 'Kill Them All' and 'Undying' which sees heavier use of the violin. This continues into 'Walking Bird' which has a great balance of violin against the melodic riffs.
Whilst this album starts off with a heavy focus on death metal, there is a definite shift as the album continues and more folk elements become apparent. Here you begin to hear those instruments that have become synonymous with folk metal – violins, whistles and the occasional cameo from an accordion.  It seems that the album really finds its stride as it continues and develops into a strong folk/melodic death metal album. 'DragonSlayer' is a great example of this.
Unexpectedly, 'I Hear Your Summons' is reminiscent of a sea shanty that you might have heard in the corner of a tavern next to the docks in the 17th century. Almost ballad-like in nature, this short instrumental was an unexpected twist and provided a great contrast to the following track 'Three Axes'.
Definitely a strong effort from Last Wail, and I look forward to hearing what they have in store in future. It appears that a further change in vocalist may be on the horizon for the band; hopefully it'll be third time lucky for the band as there is a lot of potential showing in this latest effort.
'Forgotten' is out now. You can get your copy HERE.
www.facebook.com/Last-Wail-116698101689802/
All content © Über Rock. Not to be reproduced in part or in whole without the express written permission of Über Rock.