The return of the music scene has seen a plethora of gigs announced, almost too many to support them all but it's not only about ÜK bands anymore like it was last year after the first lockdown.  The return to international touring is giving music fans a great opportunity to see other bands.  Von Hertzen Brothers last week was a joy but a bit closer to home gets me to see my first ÜS band for a while.
Kickin' Valentina are a four piece from Atlanta, Georgia, who have recorded two albums before the current one, 'Revenge of Rock' which has been picked up by Mighty Music, and so the chance of a European tour became possible. A quick listen to Spotify gave me a chance to see that I would like the music if it was the same live.  The music is unapologetic rock 'n' roll.  The singer DK Revelle has a classic rocker's voice, and it is a bit akin to John Corabi of Motley Crue/Dead Daisies fame on listening to Spotify, more on that later.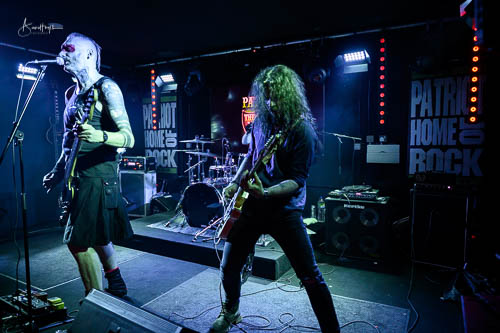 Almost an international band, She Burns Red from Livingstone (no passport required there) opened the set to a small but growing crowd.  The first thing you see (well, you could hardly miss him really was James on bass.  At about six feet four, in a kilt and with a red stripe painted across his eyes a bit akin to Mel Gibson in 'Braveheart', he stood out in the middle of the stage.  Whilst your first impression is "he's the singer then" you were side swiped (literally) when the red bearded baseball cap wearing Andy on rhythm guitar kicked off the evening with 'Copernicus Falls' with a voice that is a bit like Dave Grohl's but he is well supported by James and they swapped tracks all night long.  The only disappointment was the lead guitar sound wasn't quite right for the first three songs, which was a shame 'cos I could hear it being stood in front of the lead guitarist Naz.  However, when it got sorted it made a huge difference to the whole sound.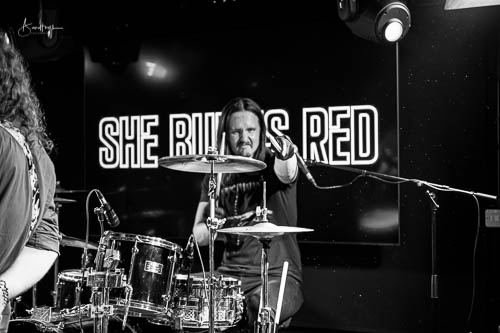 James took over on 'Gone' and his voice was clear and much less gravelly than Andy's but no less better.  'Gone' has a chorus that will remind you of something, but I cant quite put my finger on it at the moment.  With a growing army of followers that will only get bigger this band are managing to open doors (or kick them down).  They have an album in development and have the support of no less than Toby Jepson, (that might be because their previous drummer, who recorded the album stuff, was the drummer from the Amorettes).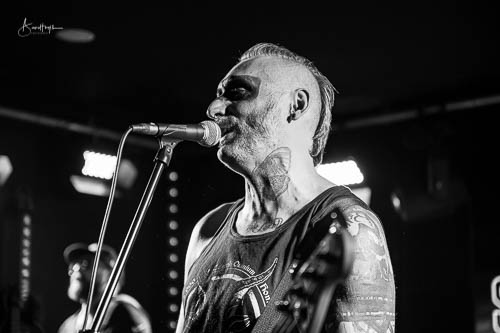 The whole set was full of energy, good vocal performances and some really nice riffage from Andy and Naz especially.  Scott is a recent addition to the band on drums but is a very accomplished drummer with plenty of energy attitude that suits the style of the band.  The latest single, 'Rise And Fall' has just landed on all good streaming platforms and has been added to some lists already.  It was a good set that ended with a track appropriately called 'Tell Me How It Ends'.  They are an act I can see supporting another small Scottish band that you may know called Mason Hill. That would be gig I'd happily pay to see.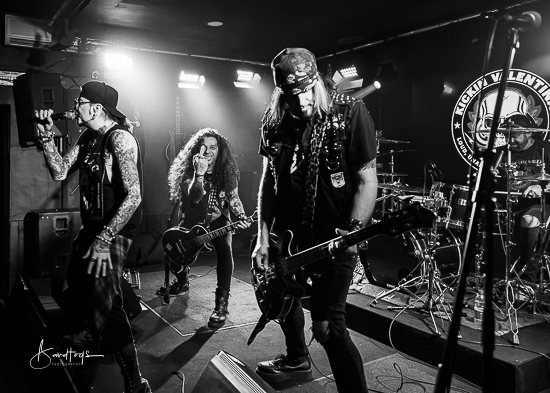 After a relatively quick turnaround, the Atlanta quartet took to the stage looking like they meant business. Another rather imposing bass player Chris Taylor in a studded cut and baseball cap with a do rag underneath just set the scene.  Heber Pampillon on guitar had more curly black hair than a certain other well-known guitarist: all he lacked was the dark glasses and top hat. He really can play his Gibson Les Paul.  DK Revelle was a slightly more diminutive figure in his dark glasses and baseball cap-but his voice… After the gigs already performed, he sounded like he had gargled John Corabi and a bucket of gravel.  More grit than a dirty Georgia backroad and enough attitude to make any hormone fuelled teenage homeboy cry and go running to their mother.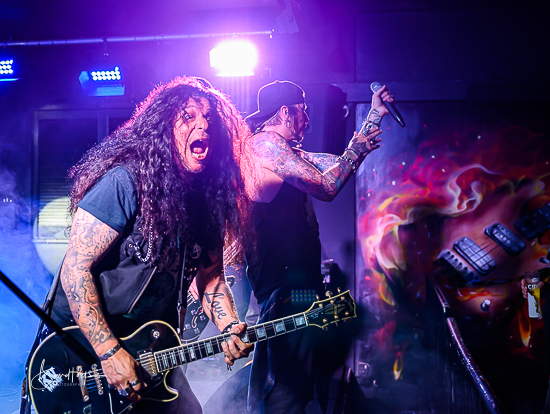 Opening up with 'Sweat', the now growing crowd really appreciated the show on offer.  The band have been together since 2013 and they were as tight as the rusty nuts on a Georgia farmer's tractor. 'Freakshow' is an easy track to get to know and all of their tracks were short enough and so widely varied that the crowd didn't have time to get bored before another track smacked them between the ears.  With the band swapping stage location regularly for their Individual moments in the spotlight, there was no chance losing anyone's attention.  Pampillon regularly danced between singer and bassist to rattle off another stinging riff with very little effort.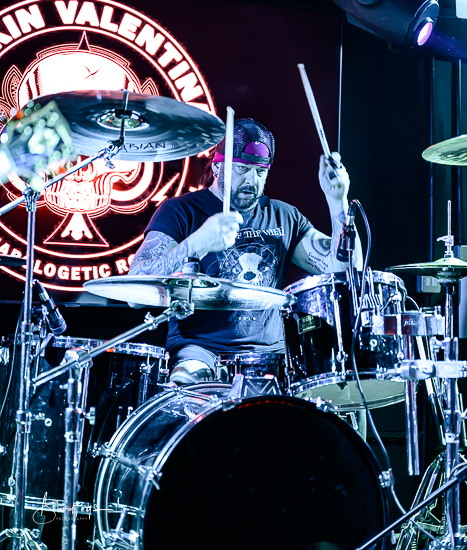 'Easy Rider' was dedicated to the ladies in the room (a little misogynistically, if you ask me, but no one seemed offended). 'Rat Race' soon had the crowd joining in with the lyrics before DK kicked off 'Somebody New' with "shot through the heart and you're to blame" before launching into the real lyrics (but you wouldn't be the only one to think "hang on, this sounds like… I'll leave you fill that in at your leisure). Nonetheless it is a catchy song that soon had the crowd singing along (because the tune was so familiar, maybe!).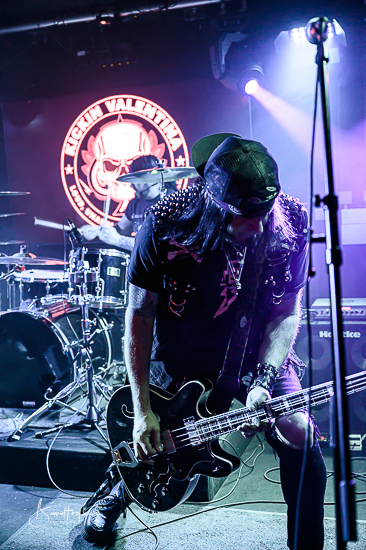 The rest of the set rattled through and before long another hour had passed.  'End Of The Road' is a lyrical reminiscence of the times we all had in our youth that we all hark back to and this is another good singalong track. 'Revenge Of Rock' from the latest album is an obvious homage to the influences of the band and the fact that rock music appears to be on the resurgence. Another great night showing once again why The Patriot can lay claim to the title of 'The Home Of Rock' in this particular part of south Wales.