By Jase Walker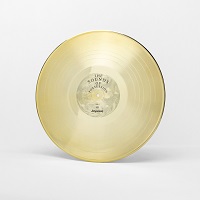 Joywave are someone I got to see a while back supporting PVRIS in Manchester's Gorilla venue and left quite an impression on me with their stylish synthpop music. They announced part way through the set amongst other things that they had a forthcoming album and I'm quite privileged in that I get to actually review it now!
Coming in at 12 tracks, each track roughly between three to four minutes long, they're all definitely ideal radio play length and going off their live show, focus more on getting some quality licks and hooks reeling you in rather than the big long epic stories that I normally tend to listen to.
The first track, 'Like a Kennedy', is a bit of a weird opener because it's almost like it's been written by Elton John in that it sounds a bit like 'Easy Like a Sunday Morning' with the whole piano ballad schtick. Don't let this fool you because it's immediate follow up 'Coming Apart' goes in hard with bombastic synths that are more familiar to me after seeing their live show, mixed in with wonderfully poppy vocals and a catchy chorus.
Joywave certainly like to jump between genres and mix in various influences, the gears switch again with the next track, 'Half Your Age' which is a lot more reminiscent of more modern indie music with it's cheeky sounding bass line, tight drumming, and guitar work that reminds me a lot of Morrisey. So far, and only three tracks in it's already a very varied album, definitely not afraid to experiment with their sound which is something I love dearly!
'Obsession' is a super funky number, this oddly reminds me a lot of The Klaxons with it's very apparent fuzzy bass clashing against funk-styled guitar, layered with multiple synths. The overall sound surrounds you like a warm blanket, satisfying all those lovely frequencies and leaves you wanting it's last minute or so to keep going, but not to worry 'BlankSlate' is more than a worthy continuation. 'F.E.A.R' is a nice little quirky number for the album's mid-point, blending in elements that you'd expect in "horror" songs like 'Thriller' or 'Monster Mash'.
'Funny Thing About Opinions' oozed class, the layering in this song is absolutely fantastic and channels in some dance elements and the like throughout. The pacing of this album is quite something honestly, with each song often feeling like it could be a lot longer, but they've opted to maintain the quality and not outstay each song's welcome. 'Who Owns Who' is a great example of this where it's in with a hook, a catchy chorus and it's there for just two and a half minutes before it's gone again and you're onto the next track. 'Blastoffff' comes off as darker compared to the often upbeat poppy sound Joywave sport for the rest of this album, it's an oddly heavy track, can proper headbang to this one!
The album's title track, 'Possession' is probably one of my favourite tracks off this album, there's something that needs to be said for the very minimalist approach to the songwriting since it's often quite hard to pull this off while maintaining your core sound but Joywave pulls this off fantastically. 'No Shoulder' comes off as more melancholy, sticking to a similarly minimalist style as 'Possession' but I'd say with a more catchy chorus with it's big atmospheric sound and layered vocals.
The album finally wraps up with 'Mr. Eastman' which is a final, and rather arty song to finish what is a diverse and easy album to listen to. 'Possession' on the whole is a fantastic album, and with, in my opinion, no "skippable" songs as they're all catchy and none feel like they drag on or fail to impress. Hopefully we'll see them back on these shores on a headline set next?
FFO: PVRIS, CHVRCHES, Mutemath, The Bravery, Battle Tapes.
'Possession' is out now. You can get your copy HERE.
All content © Über Rock. Not to be reproduced in part or in whole without the express written permission of Über Rock.