By Jonny Bakes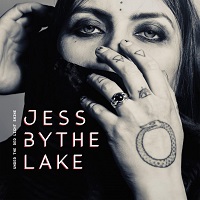 You may already be familiar with Jess and the Ancient Ones with their brand of psychedelic rock, and if you're not then I suggest you stop reading this right now, stick on some of their tracks and come back to this afterwards.
All sorted and ready to delve deeper into the rabbit hole? Good. Here we have the solo debut of Jasmin Saarela, better known for her fantastic vocal talent with Jess and the Ancient Ones. This new project will be released under the name Jess by the Lake – why 'By The Lake', you ask? Well it's pretty simple, she's lived almost her entire life by a lake, so it just makes sense, right?
Taking a break from the acid-laden psychedelic riffs of the band, this album 'Under the Red Light Shine' has a more chilled out, melancholic vibe. If you focused solely on the vocals, you could almost consider it a blues album, but that would be doing it a great injustice! There are still elements of mysticism (although not as cosmic as you may be used to) and a healthy use of the keyboards, even utilising the organ sounds which I'm glad to see is making a bit of a comeback these days!
I'll be honest, starting this review I was pretty highly strung thanks to festival preparations for the imminent Download, but after a few tracks of this album I suddenly found myself quite mellowed and a single malt had appeared in my hand. I can't promise that you'll get the magic appearing whiskey, but I can guarantee that you'll find the chilled vibes incredibly contagious! The amazing thing is that it manages to be so upbeat about being so chilled out, I didn't even realise that was possible.
The album opens with the title track 'Under the Red Light Shine' which starts with a slow riff accompanied by the organ before Jasmin's vocals kick in, and…wow. Her voice is somewhat sorrowful yet soulful and quickly becomes the focal point of the song that sometimes it's easy to forget that there are any instruments at all. The lyrics do come across very bluesy, with heaps of passion behind that voice, and would not seem or of place of they were accompanied by a simple bless guitar riff.
'Freezing Burn' is another standout track that conveniently immediately follows the first track. The chorus of this song really shows off her vocal capabilities, and this continues throughout the song. To accompany this, if you're paying attention, there's some great picking guitar riffs and jazzy piano that combine to make this one of my favourite tracks on this album.
The first single to be released from this album, 'Nightmare', is a musically one of the more upbeat tracks on this album. It's toe-tappingly good making it easy to see why this has been chosen as the debut single. The amount of passion that is delivered through the vocals on this song is pretty outstanding and would really leave you wanting more.
Closing out the album is 'Interstellar', which starts with a bit of a dark sounding cosmic introduction before the sole guitar plays a melancholic tune. This is one of the longer songs on the album and I think this works really well as the outro to this album. In particular this is one of those rare occasions where the instrumentals stand out from the vocals, especially the solo guitar work in the closing minutes of the song where I do believe I detect some influence of Dave Gilmour!
I had high hopes for this album, given the pedigree of the band, and I was not disappointed. It's great to see Jasmin's vocals in a different setting, and I must say I think this really worked for her! I can definitely see potential for a strong solo career, but I just hope that we will still get more releases from Jess and the Ancient Ones as well. This should appeal to those who love vocally driven music, and fancy something that is slightly on the mellow side – if 'Great Gig in the Sky' is one of your favourite tracks on 'Dark Side of the Moon' then this may just be for you.
'Under the Red Light Shine' is out now. You can get your copy HERE.
www.facebook.com/jessbythelake/
All content © Über Rock. Not to be reproduced in part or in whole without the express written permission of Über Rock.