By DJ Monk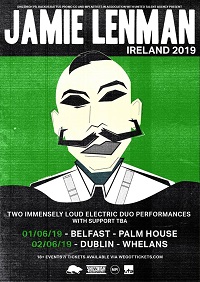 ÜR fave Jamie Lenman has announced his first ever headline shows on the island of Ireland.
He will play The Palm House in Belfast on Saturday 1 June, before travelling south of the border to play Whelan's in Dublin on Sunday 2 June.
Lenman said of the gigs:
"I had a bloody whale of a time when I was over with Biffy Clyro last year and I'm very much looking forward to seeing y'all again."
Tickets for Belfast are available HERE and for Dublin HERE.
Lenman also will play the Handmade Festival in Leicester on Sunday 5 May.