Words by DJ Monk. Photos by Marc Leach.
With the nights starting to close in and the temperatures starting to plunge, there is only one cure – and that is an evening of solid heft… and that's exactly what this hot and heavy (and very sweaty) gig did as promoters The Distortion Project waved goodbye to the summer's shenanigans and greeted the autumn's forthcoming awesomeness in terms of the Belfast gigging scene.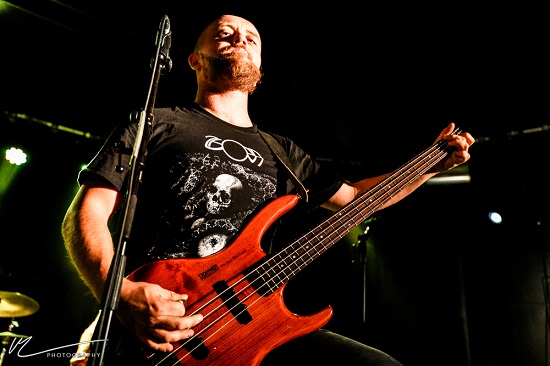 By my reckoning – and I definitely stand to be corrected – it has been quite a few years since Tipperary quartet zhOra have ventured north of the border: certainly, the last time I had seen them live was at the now defunct Monsters Of Rot festival way back in 2014. So, to say I was anticipating their return would be a severe understandment… and I'm glad to report that, not only was I not disappointed but my expectations were more than fulfilled. Their dense, sludgy, progressive-tinged doom is delivered with the ferocity of an Amazonian forest fire and the fury of a Caribbean hurricane. Intertwining guitar harmonies and the use of multiple vocals add a depth to their overall sound, which is underpinned by heavy ass bass and tightrope-taut percussion. A stunning, imperious set which was well worth the wait… let's hope it's not as long before they venture our way again!
zhOra play the 13th Note in Glasgow, with Iron Altar, Ancient Of Days and Headless Kross, on Saturday (14 September) and Badgerfest at The Bread Shed in Manchester on Friday 18 October.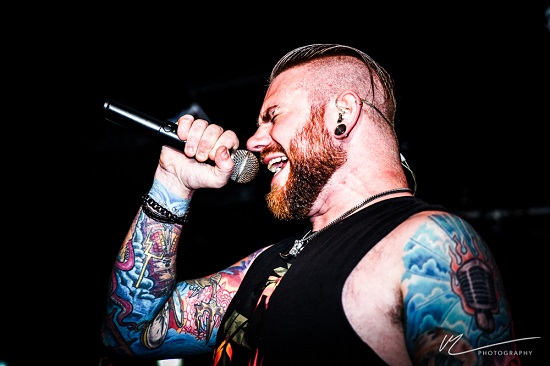 It's been just about a month since we reviewed the two local support acts, so we'll not retrace too many steps here… Cursed Sun continue to take things to new levels of eviscerating brutality with a blistering set, raising the roof with their now characteristic 'Murder Death Kill' chants and with Jones in the crowd for the fiercesome finale. Ketos, meanwhile, take a while to build their momentum but, when they do, on 'Escape The Chains', it's POW , as they deliver a series of body blows worthy of Anthony Joshua in berserker mode, aided by a bass sound so fucking heavy beer bottles are bouncing off tables and ledges around the venue. The only downside to both sets is a pre-set light show that leaves half the stage in complete darkness throughout.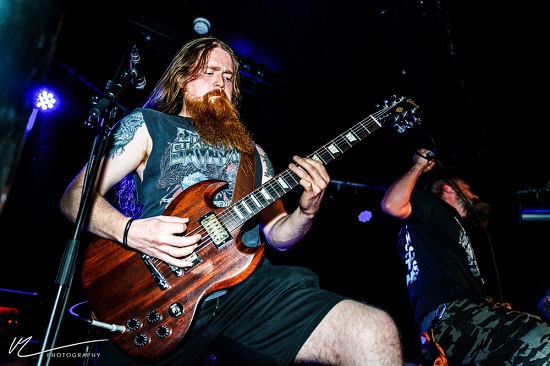 With the gig running ten minutes behind schedule and the curfew looming large, Iron Altar don't fuck about with the turnaround – and they don't fuck about when they get on stage either, hitting with furious intent and keeping up the ferocity for the duration of their 35-minute set. They deliver a heavy groove with a massive bottom end and big, filthy riffs dirtier than the nearby mudbanks, their tight as fuck guitar harmonies intermingling with moments of sheer neck-breaking beatdowns. And they certainly get plenty of movement going down the front: in fact, I would go so far as to say that this was one of the liveliest pits I have seen in quite some time. This is proper, dirty heavy fuckin' metal played the way it should be… loud, tight and in your face, with the subtlety of a sledgehammer to your gut. Brilliant stuff which impressed me so much I actually bought one of their T shirts! Hopefully it won't be too long before we're worshipping at this particular altar once again.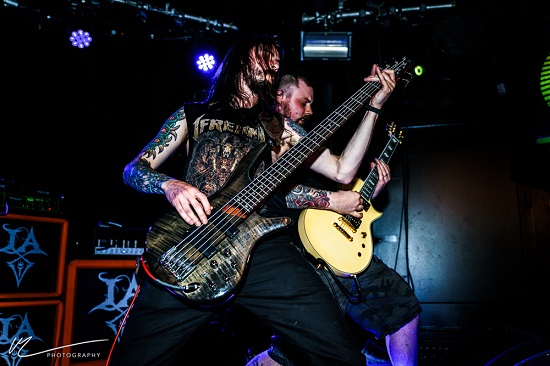 As noted above, Iron Altar support zhOra at the 13th Note in Glasgow on Saturday (14 September).
PHOTO CREDIT: All photos © Marc Leach/Über Rock. You can view our full gallery of photographs HERE.
All content © Über Rock. Not to be reproduced in part or in whole without the express written permission of Über Rock.