By Rich Hobson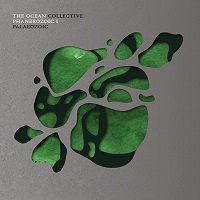 Formed at the start of the millennium, German metal experimentalists The Ocean have managed to create music spanning a number of impressive subgenres and styles, including everything from sludge and post-metal to symphonic and avant-garde. At the heart of it all is a band who has never wavered in their ambition, creating stunning works of art that consistently show their worth as some of the finest metal releases on the scene right now.
Playing in Birmingham recently as part of an extensive tour to promote their latest record 'Phanerozoic I: Palaeozoic', The Ocean arrive as part of a vanguard of acts who are pushing some of the purest – and yet simultaneously original – metal styles around, following in the wake of similar acts like Gojira and Conjurer. In addition to putting on an incredibly captivating and intense show, guitarist and main songwriter Robin Staps and recent recruit Mattias Hägerstrand (bass) found time to chat to Über Rock about how they are feeling between releases, what we can expect of the follow up to the first part of 'Phanerozoic…' and why they don't feel right being described as a prog metal band…
I started by asking the guys if they felt they had benefitted from letting the fans live with the record a bit before the tour?
Robin: It's been going really good so far. We wanted to wait for the European tour until people had the time to absorb it a little bit, so we just did a very short run around the time the album first came out in early November. In the end, that turned into a bit more of a full run because we decided to add eastern Europe, which hadn't been the original plan. I was surprised even back then that so many people already knew the record so shortly after release, to the point where it felt almost like crowds were connecting more with the new songs than some of our older ones. That was cool to see, that people were interested in hearing new stuff – especially as we'd played so much off the last record already! It was getting to a point where we had to do something new to really feel alive.
The reception to the album – critically in particular – has been overwhelmingly positive, almost a solidification of everything you've achieved over the past 15 years…
Robin: Oh yeah – it works really well to play this record live, in all honesty. It's the first time we actually tried testing the songs before we recorded them. The previous record was pretty much created as a studio record, with us figuring out after how to present it all live, which was a bit of a challenge in parts. For this one, we rehearsed together for like a month and tweaked all the little details and transitions, which I think has paid off as we're prepared more than ever before. I think you can feel that immediacy in this record, and when we play it live it's pretty stripped down when compared to something like 'Pelagial'.
I still wouldn't say it's a minimalist album – I don't think we'll ever do that – but it is pretty streamlined and straightforward. I think that's also what makes it easier for people to absorb; 'Pelagial' was really very complicated, it takes a long time to really get into, and to understand all the layers. As a musician playing it we know that best; we had to figure out how to play it after recording it! We had this conversation recently though, as Mattias (Hägerstrand – bass) had to learn all the 'Pelagial' songs for a tour last year, so he was just like "this is the most fucked up thing ever" hahaha!
Do you think the next part to 'Phanerozoic' will go in a similar direction to the last two-part album you put out ['Heliocentric' and 'Anthropocentric', both released in 2010], in terms of one side being more straight-ahead sludge/post-metal type stuff and the new release going for something more complex?
Robin: There's actually a lot of complex stuff already on 'Phanerozoic I', including symphonic elements. In 'Silurian' there's brass, 'Devonian' there's strings… But altogether there's been less than our other recent records. For the second part, I don't think you'll find it strikingly different in terms of those elements or whatever, there will be more symphonic elements in the next part, but on the whole we're going for something more complex in terms of everything, more intricate. The songs will be longer; one song in particular I think is the craziest song I ever wrote. In a nutshell; it'll be more experimental, and it'll be more multifaceted as opposed to the streamlining of the last record, bringing more of those symphonic elements, but also electronic parts too.
Where do you see The Ocean fitting in with the modern metal scene?
Robin: I think this band is the sum of all its components, but also very different to the influences of any one member. We're all very different…
Mattias: Very, very different, but also in so many ways the same. Our listening tastes put us on the same wave.
Robin: There's a lot we agree on, coming from many different areas of the music spectrum. It doesn't actually tend to be heavy, most of the time – a lot of non-metal stuff gets us all in agreement, like Massive Attack or whatever. I don't really think in genres or try to put a sticker on our back when we do what we do. I understand people want to put things on a shelf and categorize it, but that's not for me. The whole prog thing is a bit weird though to me – especially in Australia we get associated with it a lot, and I don't see The Ocean as a prog band at all. But then, I don't listen to a lot of prog!
Mattias: There's prog roots of course, but more '70s bands like Pink Floyd than the modern progressives.
Robin: In Australia we got onto Progfest and they have this really vibrant contemporary prog scene, which is great. Somehow, we got accepted there into that scene which intrigues me in a way, because there are so many people here who come to our shows wearing different stuff, but its seldom prog bands; it's all heavy stuff.
Mattias: On this new record I think we attracted a different kind of crowd to what we're used to, adding a whole new layer to what we do.
Do you think 'Phanerozoic' is a record which works better for festivals than your past releases, purely by dint of the fact it's more immediate?
Robin: It's a bit early to say right now. Progfest turned into a headline set for us, so it wasn't much different to a regular show other than that there were more people. But we'll be playing places this summer which will see shorter sets, so we'll have to see how that goes. I haven't decided just yet if we should play the record as a whole; right now, we're doing a mixed set with a focus on that new record, and that seems to be working really well. But I do like album in entirety sets, but we've just been doing that for 'Pelagial' for a few years, so its cool to be playing some rarer, older songs instead. Ideally, we want to cover the whole back catalogue, but admittedly we tend to ignore some records like 'Fluxion' and 'Aeolian'.
Mattias: It's all about finding that natural flow, of making it work.
Robin: It's a challenge making it all work – finding material from different times and making it all work. We've worked on it a lot, and we're very close to the ideal setlist.
With 'Phanerozoic' covering up to the modern period, what will come next?
Robin: After part two I have no idea; it's not like I have the next four records planned, ha ha! The idea for this came around pretty late, when we heard the instrumental versions of the songs and realised it sounded a bit like 'Precambrian' – which was celebrating its 10th birthday – and there was a gap between 'Precambrian' and 'Heliocentric' which needed filling.
With the increase in the number of bands who collaborate with orchestras for special live shows, do you see that as something you'd want to pursue yourselves?
Robin: I'm not sure I see that with The Ocean. We've collaborated with symphonic musicians in the past, had a cellist who came out on tour with us before (she sadly isn't part of this tour) and even played with a string quartet in Berlin, but we've never quite managed to work with a full orchestra. That said, to do that I would really like to compose some music – not just take The Ocean songs and waste the potential of the orchestra! I'd want to write whole new sections for them. Everything would need to be rearranged so that everyone has something to play all the time, which is a huge body of work. Maybe I'd just rather compose something new, you know?
www.facebook.com/theoceancollective/
All content © Über Rock. Not to be reproduced in part or in whole without the express written permission of Über Rock.