By Jonny Bakes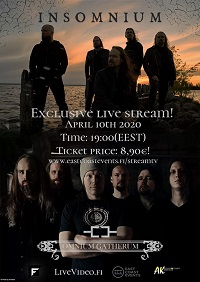 I was incredibly excited to see that two titans of the melodic death metal genre had joined forces to put on a live streamed gig last Friday night for the reasonable price of something like nine Euros, or about two pints in my book. So, I got myself comfortable, cracked open a beer and sat down for an evening of melodic goodness: but, alas, disaster struck. The chosen technical provider for the stream suffered from capacity issues that ultimately resulted in the bands being forced to make the decision to abandon the attempt at a live performance and instead record their sets and release the recordings, for a limited time, to those who had bought tickets. It wasn't the end of the world though, instead I settled down for a second time on Monday evening to catch up on what I had missed out on Friday. 
Omnium Gatherum were the first-up to bring the noise, and they did so with some exceptional sound quality and some pretty impressive lighting too. So, although we had issues with getting a live stream of this gig, the production effort within the room/venue/studio (or whatever you want to call it) was absolutely spot on, and well worth contributing the small amount of money towards! The band waste no time and launch straight into their set with little introduction, instead allowing the music to do that for them as they kick off with 'The Burning'. It's not long until we reach one of my favourites, and arguably their most popular track, 'New Dynamic', where the guitar harmonies are of a near studio-level quality, which is fantastic.
Not to be deterred by the live streaming issues, it was great to see the band still encouraging some audience participation which has to be a very strange experience for a band of this calibre playing to an empty room, yet being watched by fans from all over the world! A surprising inclusion to the set-list was a cover of Death's 'Crystal Mountain' which "they absolutely nailed", as I was informed by my housemate (and massive Death fan) who had joined me to watch this gig. It was unlikely that we'd go through the set without another hugely popular song, 'Skyline', making an appearance and it duly crops up towards the end of the set. Finally, this not-so-live set comes to an end with another favourite track of mine, 'The Unknowing'.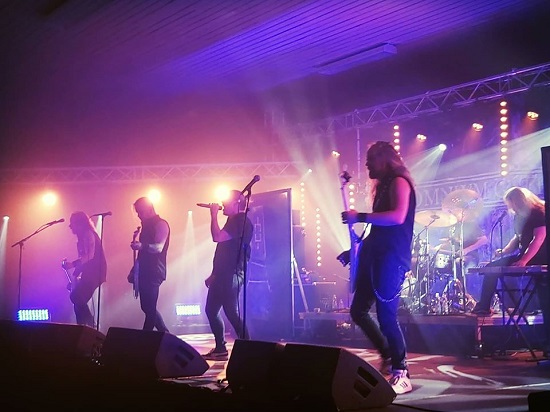 Insomnium have also put a lot of work into this gig beforehand, which includes a crowdsourced playlist from a poll on the band's Facebook page, which means we're guaranteed to hear nothing but fan favourites in this set, I can't wait! The advantage of this no longer being a live stream is that we get a pretty seamless transition, so I don't have to wait around for gear change, before the band are ready to hit the stage. The sound quality is still fantastic as they open with 'Valediction' and this is accompanied by all of the energy and stage presence that you would expect from a regular Insomnium live show.
After the first song, the band takes a moment to address everyone watching with a greeting of "Hello Internet!" which gave me a bit of a chuckle as it reminded me of Eurovision. The, effectively, Greatest Hits setlist continues through some of their biggest hits with 'Pale Morning Star', 'The Killjoy' and 'One for Sorrow' all making an appearance. Each song is played with all of the energy and enthusiasm of a band playing to a packed out venue, which is great to see,
and there's plenty of encouragement for the audience (wherever they might be) to get involved with the action. This will be particularly encouraging for fans tuning in from the US who will feel like they aren't missing out quite as much after Insomnium were forced to cancel their tour due to the current situation that has something to do with a Mexican beer…
The penultimate song of the set is the one that received the overwhelming majority of votes in the setlist poll, and unsurprisingly also their top track on Spotify, 'While We Sleep'. As one of my favourite tracks, this is a pretty great way to start to bring the set to a close before ending on the title track from the latest album 'Heart Like a Grave' which results in some cowboy hats spontaneously appearing. I must have briefly nipped to grab a drink or something, because I have absolutely no idea where these came from! To really keep that "at a gig" feel, the band even get themselves a crowd photo after their set, which is a nice little touch to round things off. I believe the intention is that they will be combining the submissions of photos from fans watching the show into a whole crowd shot, keep an eye on their socials for that one!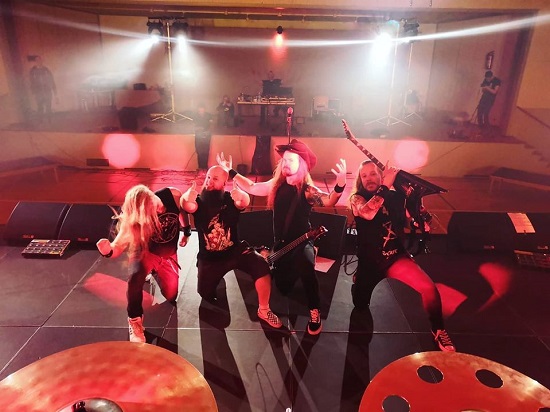 This is the first ticketed live stream I've watched, others have been free with options to donate, and I'd say it's been worth the cost. It's offered far more than sitting there just listening to the albums and, for the price of a couple of beers, definitely worth it to help support these bands during a particularly difficult time. I would be interested to see just how many tickets they sold for this event as it seemed to be blowing up on lots of different metal forums before the event, so hopefully it'll be pretty successful! Refunds have been offered for those who were disappointed that the show didn't end up being a live broadcast, but I certainly won't be pursuing on, I'd much rather my money went to the band and production guys who made this possible.
PHOTO CREDIT: Photographs courtesy of East Coast Events.
All content © Über Rock. Not to be reproduced in part or in whole without the express written permission of Über Rock.